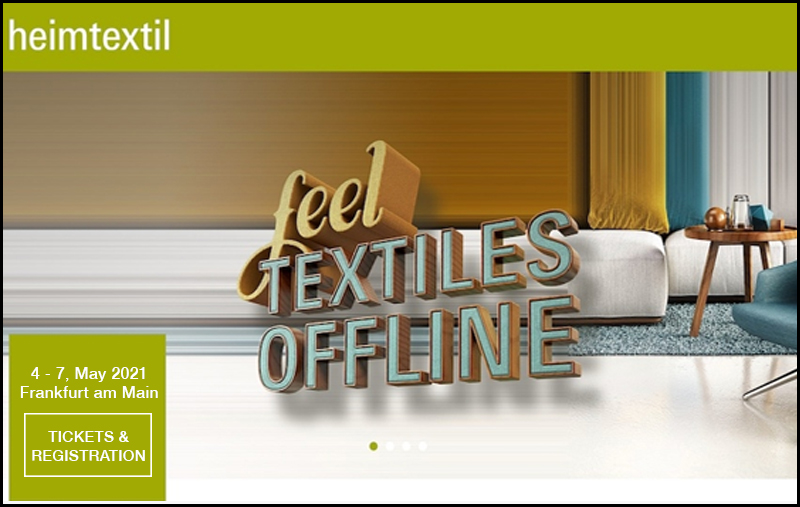 Heimtextil, Techtextil & Texprocess, the trio shows to take place in May 2021
06 January 2021: Heimtextil joins forces with Techtextil and Texprocess to bring together leading representatives of industry, trade, design, science and research at the same time and place in May 4-7, 2021 in Frankfurt am Main. The trade-fair trio will be a 'textile powerhouse' offering inspiration, expertise and business opportunities in completely new constellations. In particular, Techtextil and Texprocess will offer more digital services for the first time.
According to a survey, around 1,600 companies have said they are interested in exhibiting at the next Heimtextil. Techtextil and Texprocess can also boast very good registration figures with over 85 and 65% respectively of the exhibition space at previous events already having been reserved.
Olaf Schmidt, Vice President Textiles & Textile Technologies of Messe Frankfurt, said that towards the end of the summer, Germany's fair and exhibition industry was given the go-ahead to hold fairs again. In view of this, the organisers decided at an early stage to postpone the next Heimtextil from January until May 2021.
There, in mid-October, Messe Frankfurt began holding fairs with up to 150,000 participants. The way China has handled the virus is not comparable with the European approach. Organisers believe that social distancing and an efficient supply of fresh air is much easier to regulate in exhibition halls than in a shopping centre. They have prepared a hygiene and safety concept very thoroughly over the past months and are working flat out on holding the fairs safely in 2021.
www.heimtextil.messefrankfurt.com