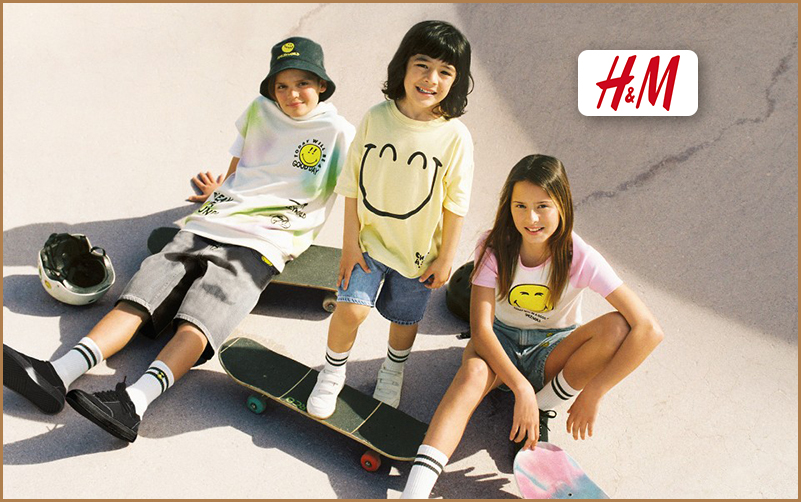 H&M Teams up with SmileyWorld for a Feel-good Kidswear Collection
16 May 2022: H&M's latest summer collaboration for kids is with SmileyWorld — bringing out the fun and positivity of the instantly recognisable SmileyWorld icons. Celebrating their 50th birthday, different SmileyWorld icons are printed onto a range of urban beach life-inspired clothes, shoes and accessories. Think skatepark influence, blurry tie-dye and happy multi-colours. As with the majority of all kids wear collections at H&M, this collection also includes more sustainably sourced materials. Available from mid-May, the SmileyWorld x H&M collection will be in stores worldwide, as well as online at hm.com.
Sharing the power of smiles, SmileyWorld icons feature on T-shirts, T-shirt dresses, sleeveless tops, sleeveless hoodies and a range of shorts, plus pool sliders, caps, bucket hats and socks. There's also a beach towel, a bag and sunglasses for those gorgeous sunny days. With a colour palette of popping colours mixed with neutrals and muted cantaloupe, mint and pink, the magic of summer really comes to life. Tie-dye and stripes add to the mood, while terry towelling is perfect for warmer weather. The entire collection is also made using more sustainable materials, such as recycled cotton and recycled polyester.
"We're so happy to be collaborating with SmileyWorld! The original icons not only send a positive message to kids, but also teach them about their emotions. Exploring self-expression is such an important part of growing up. The skate influences of the designs are a wonderful complement to the SmileyWorld graphics, with roomy and relaxed fits, an emphasis on easy summer garments with a fun, casual vibe. It's beachy and beyond — perfect to wear on a summer day."
Sofia Löfstedt, Head of Kidswear Design at H&M
Nicolas Loufrani, Smiley CEO, comments: "After the challenging last couple of years, what better way to navigate out of these times with this campaign that aims to reverse a global smile deficit, spread positivity and fill the world with smiles in 2022. We are delighted to amplify this message of positivity and happiness to kids across the globe with H&M."
Notes to all editors:
Created in 1972, by French journalist Franklin Loufrani to spread feel-good news, the Smiley would go on to become one of the most important icons in graphic design, bringing people together through a creative message that spreads positivity and putting social and emotional learning at the top of the agenda. In 1996 Nicolas Loufrani, son of Franklin, took the helm and saw a huge opportunity to bring Smiley into the digital world. Creating a whole new way of communicating, using a variety of facial expressions on the original Smiley to convey emotions, his emoticons are now used by everyone around the world every day.
Today, The Smiley Company is one of the world's top global licensing enterprises that extends across fashion and homewares, through to food and beverage and continues to embrace collaboration as an opportunity to spread this important message. More than an icon, brand and lifestyle, Smiley is a sprit and philosophy and a reminder of how powerful a smile can be.
For more information and background around the campaign, including additional imagery and products, please source H&M Magazine.