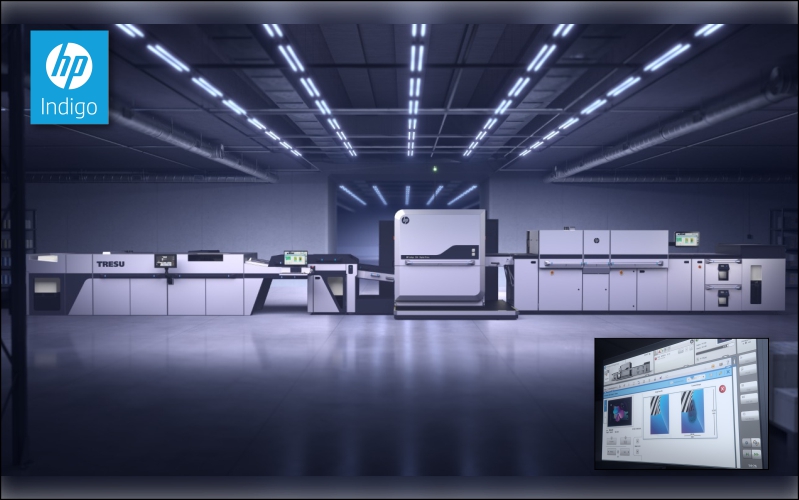 HP Indigo Digital Printing Accelerates with New Wave of Innovation Across Portfolio
29 May 2021: At Dscoop Edge Fusion 2021, HP Inc. announced a new wave of innovations for HP Indigo digital printing, supporting momentum, growth and digital transformation.
Print Service Providers (PSPs) worldwide continue to adopt HP Indigo digital printing, with more than 125 HP Indigo presses already installed to date from the new technology portfolio announced in March 2020.
"Despite the challenges of the past year, Indigo customers have continued to lead the transformation of the graphic arts industry. Our R&D labs continue to deliver on our promise, releasing new capabilities, products and solutions to support the growth of our customers," said Haim Levit, HP Indigo vice president and general manager, in a keynote address to Dscoop Fusion, a global gathering of HP Graphic Arts print service providers and solution partners with over 8,000 members.
Transformation in commercial printing
Since its introduction last year, HP Indigo's new commercial portfolio gained significant momentum worldwide, including long-term investments in new fleets by Cimpress and Shutterfly. The portfolio empowers commercial printers to continue expanding the digital transformation in the market. The HP Indigo 100K Digital Press – the most productive digital B2 press in the market3 is leading this trend with more than 30 units already installed, enabling commercial printers to shift greater volumes from offset to digital.
Hypergrowth in HP Indigo labels and packaging
Label and packaging converters operating HP Indigo digital presses are continuing to outgrow the market, driven by trends such as SKU proliferation, and the ability to optimize supply chains with on-demand printing and fast turnaround. In flexible packaging, in particular, worldwide HP Indigo production has experienced hypergrowth in the past year of more than 50%4, with folding cartons and labels customers also enjoying strong double-digit growth.
To support this growth momentum, HP Indigo today announced commercial availability of additional products and capabilities in its 2020 portfolio for labels and packaging production. Value packs and options are also available for HP Indigo 20000, 30000 and 6000 series users, allowing them to protect their investments and enjoy new capabilities on their presses.
Creating the Digital Label Factory of the Future
Throughout the past year, label customers have been increasingly printing longer runs and multi-SKU label and shrink sleeves jobs on their Indigo presses, with Indigo 8000 print volume growing by over 30%. To support the transformation of label converters from an "analog first" mindset – with the burden of slow delivery, high labor costs, higher waste, tooling, ink mixing and more – to a digital "Indigo first" mindset, HP Indigo continues to ramp up the development of the upcoming HP Indigo V12 Digital Press. The HP Indigo V12 Digital Press, a narrow-web label press, is the first HP Indigo press built on next-generation HP Indigo LEPX architecture.
www.hp.com