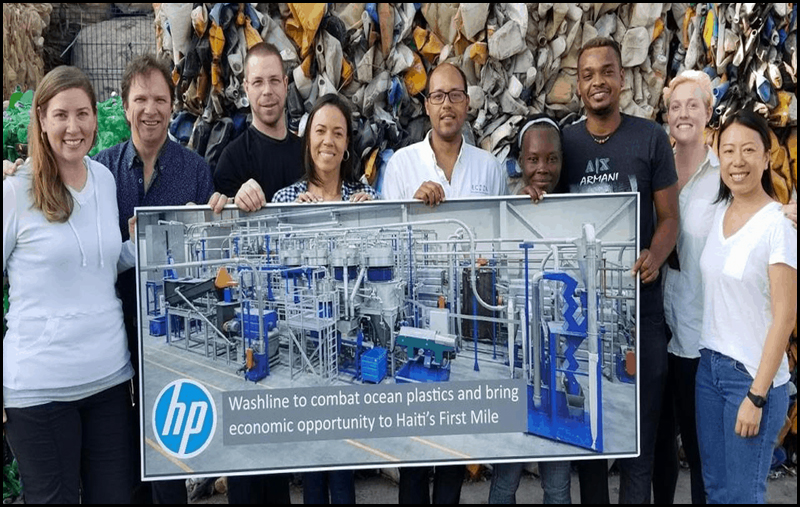 HP is working to provide income opportunities for waste collectors in Haiti
26 December 2020: HP is working to provide income opportunities for waste collectors and increase the market rate for recycled plastic with it's new $2 milloin washing line in Haiti. HP's ocean-bound plastic programs are also creating new opportunities for economic advancement and education in local communities. In Haiti, HP's partnership with Thread International and Work has helped create more than 795 income opportunities* for adults in the country and opened two new learning centers equipped with HP ProBook x360 Education Edition laptops and HP printers. The collaboration has already provided 100 children with quality education, food, and medical assistance and the new investment will create more than 1,000 new income opportunities.
HP has been actively reducing ocean-bound plastic in Haiti since 2016, when the company began partnering with the First Mile Coalition to convert plastic bottles into recycled material used in Original HP ink cartridges. These efforts have already diverted approximately 716,000 pounds of plastic materials or more than 25 million bottles-preventing this plastic from reaching the waterways and oceans and repurposed it into HP cartridges.
Globally, HP has converted more than 199 million pounds of recycled plastic into 3.9 billion HP Original ink and toner cartridges since 2000.
The new washing line will help enable Haiti to expand its recycling capabilities and compete better on the international plastics market with thanks to HP suppliers Lavergne and ECSSA who have partnered with HP on the project since efforts began in 2016.
HP joined ocean-bound plastics leader NextWave Plastics in October 2018 to join similarly focused companies dedicated to integrating ocean-bound plastics into their product supply chains. The coalition has set a goal to divert a minimum of 25,000 tonnes of plastics, the equivalent to 1.2 billion single-use plastic water bottles, from entering the ocean by the end of the year 2025.