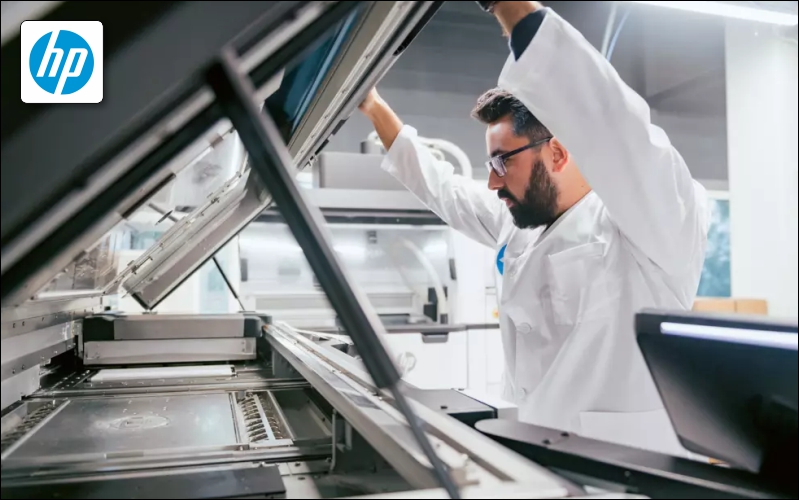 HP Moves Ahead in 3D Printing Industry
24 November 2021: At Formnext 2021, HP introduced innovative production applications of its Multi Jet Fusion and Metal Jet 3D Printing Platforms. HP is also working with L'Oréal, the world's largest cosmetics company, to scale industrial additive manufacturing and produce new cosmetics packaging and applications. To drive the growing demand for more flexible 3D manufacturing and mass personalisation across all industries, HP is also expanding its Digital Manufacturing Network (DMN).
L'Oréal is using HP Multi Jet Fusion printers to respond more quickly to changes in its manufacturing processes and production lines. The companies collaborated on research to develop and scale high-volume customisable 'pucks' that enable L'Oréal to convey, fill and label products more flexibly. This results in a cost saving of 33 percent and a time saving of 66 percent. The customisation of the pucks also paid off during the pandemic, providing L'Oréal with additional flexibility in response to changing consumer buying patterns.
HP is expanding its global Digital Manufacturing Network to meet the growing demand for Multi Jet Fusion. The network now includes both manufacturing partners and Multi Jet Fusion production specialists who use HP 3D printing solutions to design, manufacture and deliver parts at scale. More than 30 new Multi Jet Fusion Production Specialists provide skilled local manufacturing services.
To help manage and automate complex 3D printing workflows and large additive manufacturing fleets, HP Digital Manufacturing Network partners such as Forecast 3D, Jawstec, Weerg and ZiggZagg are leveraging HP's portfolio of additive manufacturing offerings, including 3D Factory Services, software such as HP 3D API and HP 3D Center and hardware solutions such as the HP Automatic Unpacking Station.