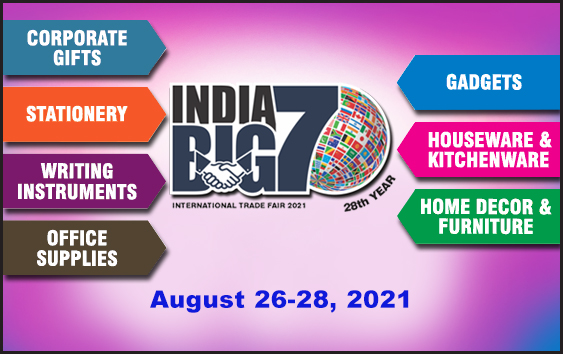 India Big 7 beckons – Event scheduled from August 26-27-28, 2021  offers options to delight your customers with innovative gifts
19 March 2021: India Big 7 is India's leading and largest trade event on gifts, stationery, writing instruments, office supplies, gadgets, houseware, kitchenware & home décor, lifestyle, apparels, luggage, food, confectionery, beauty, health & wellness industry in India.
In its service to the industry for last 27 years, India Big 7 has emerged India's leading and trusted networking platform that brings together the entire range of solutions and enable manufacturers, traders, wholesalers, stockists, corporate buyers altogether on one place to conduct business. The gifting and stationery industry has been growing tremendously with entry of many new players from India and overseas.
It offers opportunities to exhibitors who are manufacturer, reseller, exporter or importer, supplier or dealer of products or services from the specified segments given that India is considered to be the biggest growth market:
# Corporate, Premium & Novelty Gifts: INR 250,000 crore is the size of corporate gifting market in India, of which INR 12,000 crore belongs to corporate gift which is growing over 200% per annum                                                      # Lifestyle, Apparels & Luggage: Lifestyle and apparel market continues to grow owing to growing consumer class, rapid urbanization and changing fashion trends. Luggage industry estimated to reach INR20,000 crore.
# Stationery, Writing Instruments & Office Supplies: The overall Indian stationary industry is growing at the rate of 8% a year, with new products and formats being added in every now and then.# Gadgets & Electronics: The Indian gadgets & electronics industry is one of the largest markets in the world anticipated reaching $400 bn and become the fifth largest in the world by 2025. 100% FDI is allowed under the automatic route.                                                # Houseware, Kitchenware & Home Décor: Houseware, Kitchenware & Home Décor market has witnessed phenomenal growth, particularly in the last 10 years. The kitchenware industry is also growing at a rate of 6-7% and is expected to grow further.
# Food & Confectionery: The Indian confectionery market amounts to US$11,567m in 2019 and is expected to grow annually by 6.7% (CAGR 2019-2023). Food and beverages is the biggest of the consumption categories. The beverage industry, excluding alcoholic beverages, is worth about $16 billion.
# Beauty, Health & Wellness: India is also the second largest consumer market in the world. The compounded annual growth rate of the beauty and wellness business in India has been around 18%.
Corporate and business houses from pharmaceutical, lifestyle, tourism, IT, food & confectionery, health & beauty sectors are driving the demand and are the biggest buyers of corporate gifts, stationery and office supplies. Key growth drivers include growing middle-class population, rising disposable income, improving lifestyle, increase in literacy, burgeoning corporate offices and overall growth in socio-economic scenario across the nation. These have resulted to an increase in demand for corporate gifts, premium stationery, office supplies, gadgets, luggage, houseware, kitchenware and home décor commodities.
www.indiabig7.com