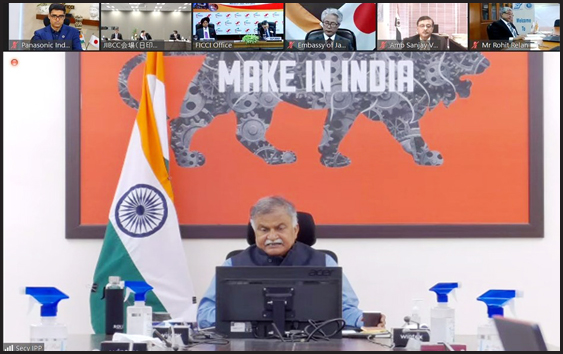 India is one of the most open economies of the world
15 March 2021: India is one of the most open economies of the world and most of the sectors have been open under the automatic route of FDI, said Dr. Guruprasad Mohapatra, Secretary, DPIIT. He was addressing the '44th India-Japan Business Cooperation Committee Meeting' (IJBCC) organised by FICCI.
He further said that Japan has also been regarded as a key partner in India's economic transformation and today it stands to be one of the key investors in India (third largest FDI) with a cumulative investment of more than US$ 30 billion, which represents 7.05 per cent of the cumulative inflows received till date. The COVID 19 pandemic, has led to foreign exports to Japan, and this provides India with a unique opportunity to attract fresh Japanese investments.
Elaborating on the PLI scheme in the 13 key sectors Dr Mohapatra said, "It will enhance India's manufacturing capabilities and exports and we look forward to Japan participating in the PLI scheme in India. DPIIT and MEA are closely working with our missions abroad to see that the investment coming to India are hassle-free and we are coming out with a single-window system from 15 April 2021 to help the investors coming into India."
Satoshi Suzuki, Ambassador of Japan to India said that Japanese companies maintain a high appetite for investment in India and the Indo Japanese relationship has been expanded and enhanced post the COVID-19 pandemic.
FICCI through the IJBCC and other platforms has also been actively promoting this idea and have conducted several (virtual) discussions with all relevant stakeholders to understand and gauge their issues and suggestions.
Dilip Chenoy, Secretary-General, FICCI said that the IJBCC has been a valuable contributor to the vital structure of the India- Japan ties and this joint meeting aims to strengthen the Japan-India economic engagement.