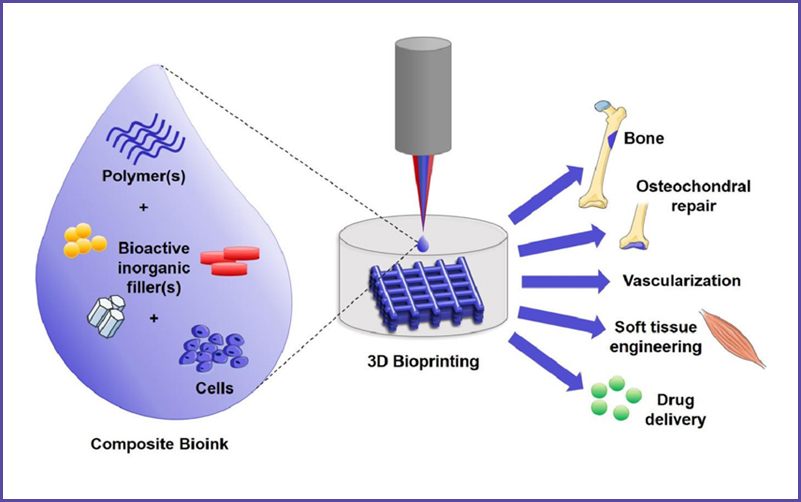 Innovative Bioinks for 3D-Bioprinting
04 February 2023: Bioprinting aims at producing biological or biologically functional tissue in the laboratory. Using a 3D bioprinter, bioink is printed layer by layer to fabricate a complex three-dimensional object. In the future, such biobased 3D structures are to be used, for example, as in vitro test systems in pharmaceutical research and personalized medicine in the production of customized vascular and organ components. To turn this vision into reality, researchers at Fraunhofer Institute for Microstructure of Materials and Systems IMWS are developing new bioinks that are suitable for various applications.
Bioinks must meet a variety of requirements: They must be printable, mechanically stable and biocompatible, contain no toxic components, and be capable of being crosslinked to form a hydrogel to provide a scaffold for cell colonization that is similar to the natural matrix in connective tissue. Different bioinks are used depending on the area of application. The inks differ firstly in the polymer used and secondly in whether cells are printed along or are subsequently colonized within or on the printed 3D structure. The bioinks currently commercially available are mostly based on collagen, gelatin and alginate, with other biopolymers being under development.
Scientists at the Fraunhofer IMWS are addressing this topic and are currently developing novel protein-based bioinks with a focus on elastin. In addition to the actual ink development, the mechanical, physicochemical and biological properties of the printed objects are evaluated and cell compatibility is explored.
Tobias Hedtke, Research Associate at Fraunhofer IMWS, explains the goal of the research team as follows "In the long term, we want to be able to replicate functional vessel and organ parts using optimized bioinks. For this purpose, computer tomographic data from patients, for example, could be used to print precisely fitting 3D structures of vessels and later implant them in the patient. We have very successfully completed our first research project on new bioinks and filed a patent for the use of elastin-based bioinks. Further research projects are being planned."
Currently, the researchers are looking for collaboration partners from industry and the clinical field to advance the application-oriented further development of the inks in terms of requirements and applicability.
www.imws.fraunhofer.de