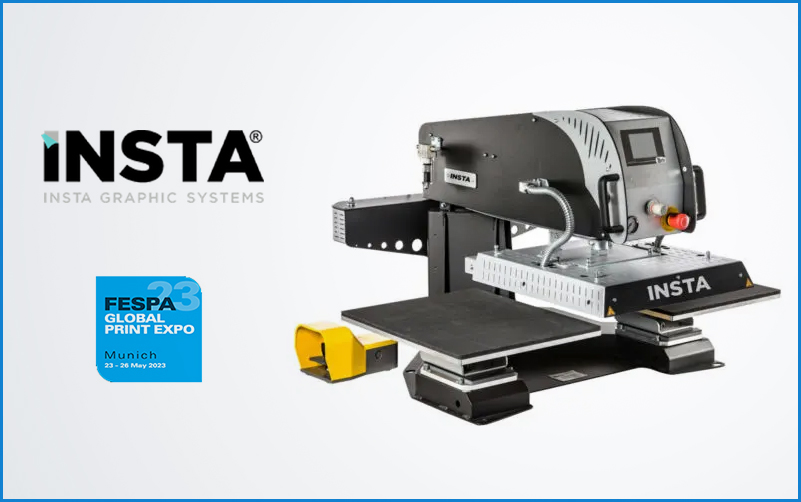 Insta Graphic Systems Exhibits at FESPA Global Print Expo 2023
26 May 2023: Insta Graphic Systems, a global leader in heat press technology is exhibiting at FESPA Global Print Expo 2023 (23-26 May) at Munich, Germany.
Insta 780 Dual Shuttle – Fully Automatic Heat Press
"We are happy to meet and network with the most astute and focused professionals in the global printing and signage industry at FESPA Global Print Expo 2023. The expo offers us a valuable opportunity to tap into the industry's zeitgeist, understand its current challenges and peek into the future. The melting pot of ideas is made possible only because the event attracts the best executives and entrepreneurs currently working in wide format printing, digital printing, offset printing, textile printing, direct-to-garment printing, embroidery and signage and we want to hear from every one of these high performers." says spokesperson for Insta Graphic Systems.
He further said, "We have immense confidence in our product lineup. Insta Graphic Systems has been in the industry for over 60 years and the lessons we have learned over this time have been meticulously collated and distilled into the award-winning machinery that we create today. So, with our enviable position in the industry, we are always thrilled to meet with manufacturers, distributors, and suppliers from all over the world and tell them more about what we have to offer."
Insta Graphic Systems has been creating professional-grade heat press transfer machines since 1959. The company's heat press machines are equipped with superior pressure and temperature distribution across the entire platen while also recovering heat significantly faster than other heat transfer machines on the market. With a lifespan of over 25+ years and several SGIA Product of the Year awards to their name, Insta Graphic Systems' range of heat transfer machine technology has earned a reputation for exceptional value and reliability.
The company also offers custom heat transfers for many applications such as team sports apparel and uniforms, performance wear, eco-friendly prints, industrial/workwear, casual wear, medical wear, and more. Its durable transfers can withstand frequent wear and tear and work well on numerous fabrics.
Apart from the Insta Graphic Systems' completely US-based operations, out of its office in Cerritos, CA, the company also has a network of distributors in more than 125 countries. It also maintains a European warehouse to facilitate the purchase and shipment of its professional-grade heat press machines overseas.
www.instagraph.com