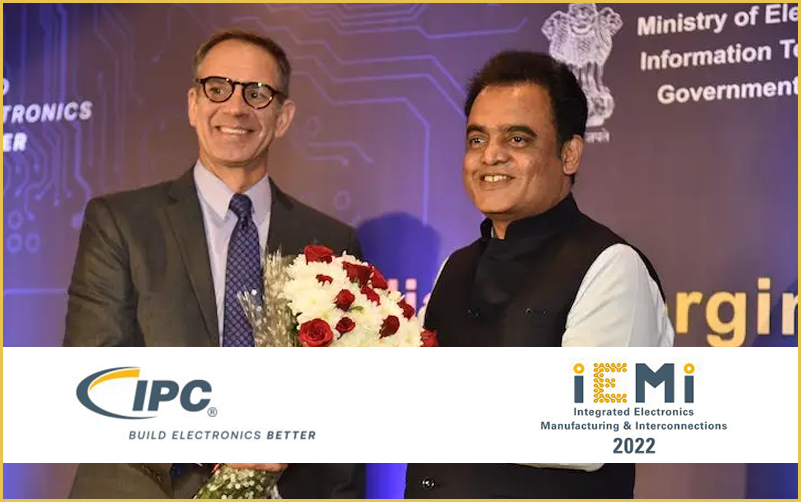 IPC India Brings Together Integrated Electronics Manufacturing & Interconnections (IEMI) Event
9 August 2022: Commemorating their decade-long service to the Indian Electronics industry, IPC India brought together players to deliberate on the industry's future. IPC India, a part of the global not-for-profit association established in the USA in 1957 represents all facets of the electronics manufacturing industry, the Integrated Electronics Manufacturing & Interconnections (IEMI) event in India. More than 700 leading electronics companies based in India participated in the event. IEMI provides an important platform where IPC global and Indian members connect annually to forge strategic partnerships to further the Indian electronics manufacturing ecosystem, create export opportunities, and supply chain advantages, and attract investment. The event was supported by IPC Indian and global members and Indian and international electronics associations.
Since 2010, IPC India has supported original equipment manufacturers (OEMs), electronics manufacturing services (EMS) companies, printed circuit board (PCB) manufacturers, cable and wire harness manufacturers and electronics industry suppliers. IPC has served the Indian electronics manufacturing industry through global standards, certification, education and skill training over the past one decade. IPC India has certified more than 11,000 industry professionals and enhanced their companies' product quality and reliability. Electronics manufacturing has been growing quite significantly in India and IPC has been supporting the Government of India by providing resources that will help electronics manufacturers create better quality products and enhance job skills.
Dr. John W. Mitchell, IPC President and CEO, "We are excited about current manufacturing opportunities in India which is forecasted to bring the Indian electronics industry to US$300 billion by 2026, from US$75 billion presently. India is poised to become a global manufacturing hub, exporting approximately US$120 billion by 2026. This market size explosion has been catalyzed by COVID-19 led growth of digital consumption."
"India is a new hub for electronics system design and manufacturing (ESDM) and robust local demand is a major driver for electronics manufacturing in India. IPC members are excited about the printed circuit board assembly (PCBA) opportunities in India. PCBA is the core of every electronic device such as mobile phones, tablets, computers, routers, televisions, washing machines, refrigerators, air conditioners, etc. and India should interest major manufacturers from the industry", said Gaurab Majumdar, IPC India Executive Director.
IPC India has developed partnerships with several regional Chambers of Commerce and industry associations including FICCI, MAIT, ELCINA, ESC, IPCA, ICC, AIMED, and SIATI for this event. IPC India encouraged State SMEs and start-up companies to attend associated with electronics clusters in Gujarat, Telangana, Andhra Pradesh, Karnataka, Tamilnadu and Karnataka.
One of the major attractions of IEMI is skill challenge competitions on hand soldering, wire harness, and PCB design. More than 100 companies and 1,500 professionals have been involved with IPC India skill challenge competitions since January 2022, culminating in the semi-final and final rounds.
www.ipcindia.org.in