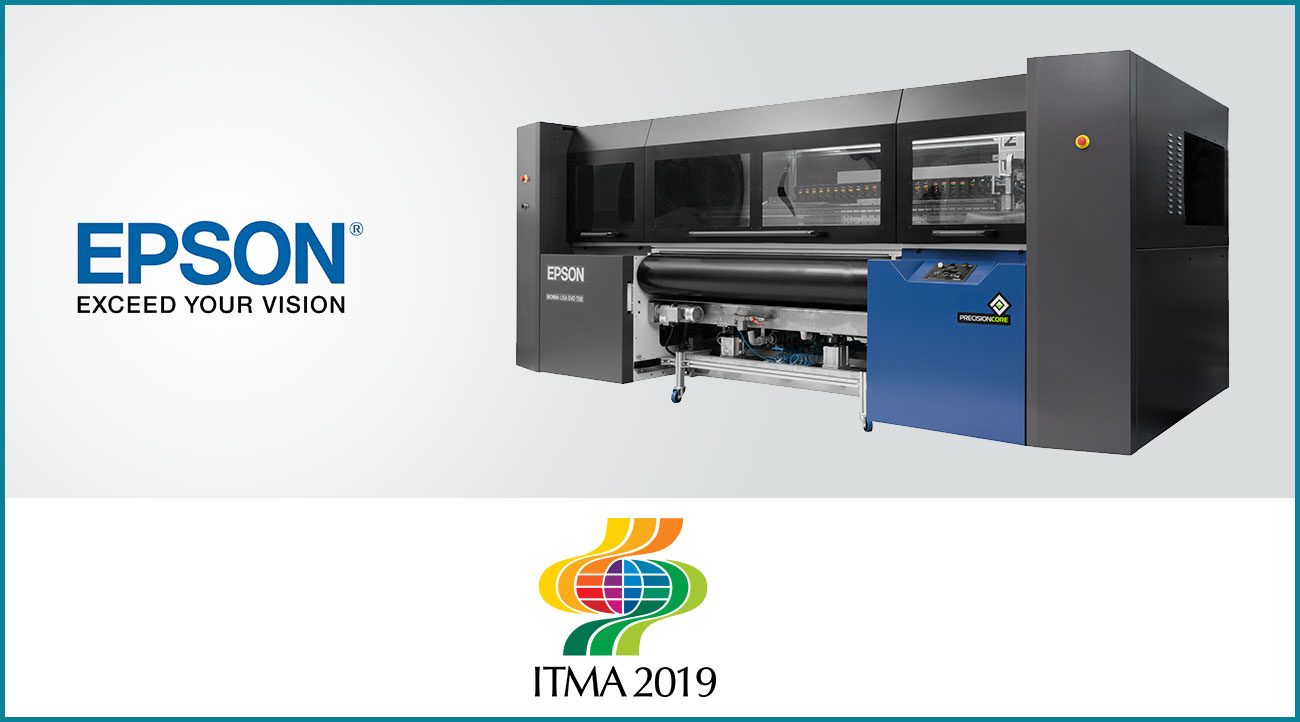 ITMA 2019: a great success for Epson and its new Monna Lisa Evo Tre
15 July 2019, Cinisello Balsamo, Italy : "ITMA is one of the most important events in the textile calendar for Epson and the latest show has been a great success for us," comments Paolo Crespi, Direct-to-Fabric Sales & Marketing Director EMEAR & Americas. Digital textile printing pioneer, Epson, has showcased its new Monna Lisa Evo Tre range and new Genesta pigment inks at ITMA this year, demonstrating the latest Epson innovations for an evolving digital textile market.
"The number of customers and prospects has been particularly high since the opening day on 20 June and has remained constant throughout the entire event." Paolo Crespi continues "It was a great opportunity to get in touch with international clients, coming not only from European countries, but also increasingly from markets further afield such as Turkey, India, Pakistan and South America, especially Peru, Mexico and Brazil. This has resulted in many new conversations with prospective customers."
The new Monna Lisa Evo Tre range features Epson PrecisionCore Technology and offers a complete solution for all textile market needs, from large scale, high speed production to small run, on-demand sample printing. Monna Lisa Evo Tre range includes the new Monna Lisa Evo Tre 64 and the Monna Lisa Evo Tre 8, as well as the Monna Lisa Evo Tre 32 (displayed in the 16channel configuration) and the Monna Lisa Evo Tre 16.
Paolo Crespi concludes: "The decision to exhibit the entire line-up of the Monna Lisa series at the fair was much appreciated by our visitors who were able to experience, once again, the superb quality of our machines which has remained consistent after more than 15 years. Above all, visitors were genuinely delighted to see our latest top-of-the-range, high productivity Monna Lisa Evo Tre 64".
About Epson
Epson is a global technology leader dedicated to connecting people, things and information with its original efficient, compact and precision technologies. With a lineup that ranges from inkjet printers and digital printing systems to 3LCD projectors, watches and industrial robots, the company is focused on driving innovations and exceeding customer expectations in inkjet, visual communications, wearables and robotics. Led by the Japan-based Seiko Epson Corporation, the Epson Group comprises more than 81,000 employees in 85 companies around the world and is proud of its contributions to the communities in which it operates and its ongoing efforts to reduce environmental impacts.
www.epson.eu