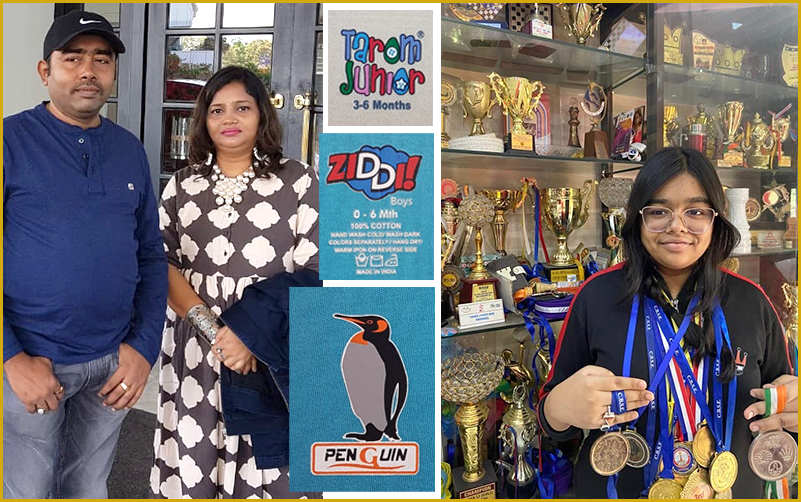 JJ Printech Scales Newer Heights
23 July 2022: Snehasis Bir, the 50-year-old founder of the Kolkata-based firm shares its USPs, key offerings and explains how their family is full of achievers
We are a family of true achievers and this applies to all of us. I and my wife Mahua Bir have been working together from the last 25 years to make JJ Printech a leading player in Heat Transfer Stickers, Satin Labels and Taffeta Labels in Eastern India, while our daughter, Yashjyoti Bir is a leading international chess master.
We are also one of the leading manufacturers and suppliers of fusing machines that are made available in different sizes and are appropriate for different requirements. All our machines confirm to international quality standards.
My wife Mahua takes care of the office administration and I take care of production and marketing. I try to visit all important trade fairs related to our industry so that I can keep myself updated with the latest trends and technological developments taking place in our industry.
Our factory-cum-residence is a 3,000 square feet premises and today 25 people are working with us. We have a daily production capacity of 8 lakh multi-colour heat transfer stickers (1' x 1') and 3 lakh Satin & Taffeta Labels.
Due to our quality and on-time delivery, JJ Printech is well-known in the hosiery industry in Eastern India. We have 3 semi-automatic screen printing machines, screen exposing and screen stretching facility installed, all in-house.
We have a noteworthy clientele; well-known hosiery and garment manufacturers from all over India buy Heat Transfer Stickers from JJ Printech. We are constantly adding new designs looking at the fashion trends moving in the market.
In terms of our plans for future expansion, we are looking at expanding into label related business opportunities and looking at various options available to us, considering them on the basis of suitability and the quantum of market potential that they possess.
J. J. Printech has a committed team, the requisite infrastructure and importantly, the passion for excellence that have all made us one of the leaders in the field today as leading manufacturers and suppliers of fusing machines and heat transfer labels.
Fusing machines use heat and pressure to achieve the fusion of all kinds of flaps. Our machines come in several sizes and are inclined to allow heat control so that the machine can be suited to the application. By using our machines, fabric structure is maintained and shrinkage and fading avoided.
Our machines come in 4 standard sizes but we offer all manner of customization to serve every purpose and the demanding requirements of all sewing plants. The fusing area is available in different widths and has a continuous belt. The range is known for ease of operation, workmanship, and maintainability. It includes 3/4 Size Fusing Machine, 6/6 Fusing Machine, 15/15 Fusing Machine and Manual Fusing Machine.
Our endeavor is to make sure that our clients get the most efficient and modern equipment that can further their business. Our constant effort to innovate and improve on our range of machines has resulted in our fulfilling various requirements of the textile industry.
Our unit is equipped with various machineries which help us meet our production schedules in time and to high quality standards. The sophisticated quality control measures that we take ensure that machines meet international quality standards. Our warehouse can categorize and store machines in bulk and we take care to streamline the packaging and delivery processes to carry out on time delivery.
We have a team of professionals who have years of industry experience and are committed to client satisfaction. Our technicians keep a weather eye open for latest market trends regarding sewing machines and have the flexibility to adapt themselves to changing technology. Their sense of team and their loyalty to the cause has contributed enormously to the growth of our company.
After our quality testing procedures, our clients can be assured of the delivery of a flawless machine that is durable and functions efficiently. We seek to deliver quality at an affordable price. Our team of qualified and dedicated personnel is trained to work in our well-equipped premises and is kept updated with the latest trends in this field so that they can come up with contemporary designs suited to current industry's demands.
We know that our efficiency in turn enhances that of our customers and assists them to excel. Our trained and focused team of quality engineers undertakes stringent quality checks at different stages of manufacturing. Quality also means the right recommendations and consultation, perfect customization, outstanding engineering and on time delivery.
Queen in the family….. Making India Proud
Sharing insights on her achievements as an international chess player, Yashjyoti Bir, a class 10 student at Heritage International, says, "I started playing chess at the age of 6 as a hobby but soon chess started to become my all-time favourite sport. I started representing West Bengal in the Nationals by winning the state under-9 chess championship. Then I participated in numerous nationals. I ranked under top 10 in under-13 nationals twice. I won a silver in commonwealth chess championship for India in under-14 girls in 2019.I also have numerous medals in CBSE nationals and SGFI nationals. In 2021, I represented India in some events which took place in Europe in the month of July and again in October. In the July event, I won two gold medals and at the October event, I won two gold and one bronze medal. I also won the title of 'Women Fide Master.' My current world ranking is 64th and in India it is second in the sub-junior category. I also have three Telegraph chess awards and Chess for Youth award (unbeaten). I am again off to Serbia on July 22, 2022 and I aim to become a WIM soon."
Giving back to society
Snehasis Bir is also contributing the society by doing various types of social service all over West Bengal. He was recently honoured at a function on July 10th by the Rotary Club of Kolkata. He says "I firmly believe that one should try to do something for the benefit of others and have been making sustained efforts in this direction. It is a privilege to do something that enables giving back to society and I am extremely appreciative to have been felicitated in a public forum."
www.jjprintech.com