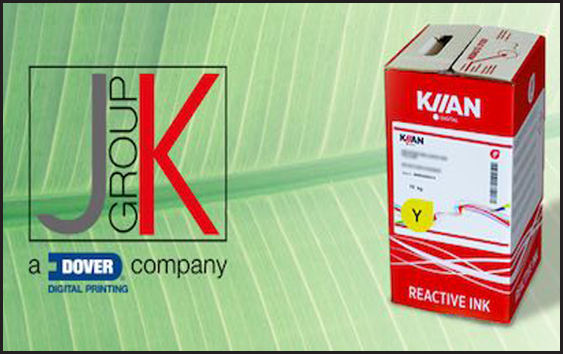 JK Group's New Initiatives in Sustainability
27 March 2021: Italian ink manufacturer JK Group has unveiled a number of new initiatives that see it supporting a trend towards improved sustainability in the wake of the pandemic. The Dover Digital Printing company has developed a new way of packaging its reactive inks to reduce its environmental footprint, while at the same time has announced extended shelf life across all of its ink ranges.
The company's Kiian brand has recently launched a new reactive ink series called Digistar Bellagio and one of the new departures for this range is its Bag-in-Box (BiB) packaging. This environmentally-friendly initiative sees all the reactive inks now being packed in flexible PE or multilayered plastic bags, which are incorporated into a cardboard outer shell. The system has a number of advantages, the most important of which is that it represents an 80 percent reduction in the use of plastic when compared with traditional HDPE containers of a similar capacity. Additionally, the integrity of the ink is better maintained thanks to the packaging's enhanced physical and mechanical protective properties – so users benefit from higher standards of performance and stability. The reduced packaging means a reduction in shipping and warehouse space, which in turn leads to lower transport and storage costs, and less environmental impact across the supply chain.
In a further environmentally-friendly move, JK Group has announced a shelf life extension of all of its ink series. Harnessing continuous improvements in performance brought about by study, R&D activities and new initiatives, the company has spent the last year working on ways of extending shelf life. The longevity of ink is affected by temperature, humidity and other environmental parameters depending on its storage conditions. The company has conducted an in-depth analysis of its ink formulations, including stress tests, to determine more precisely how long they will last on the shelf. The resulting extension of shelf life means improvements for stock management and order rationalization, adding up to better efficiency and cost savings.
According to DDP President Abhi Agrawal, 'We understand not only how important these initiatives are for the planet but also to our customers, who are looking for cost-efficient ways to reduce their environmental impact. This represents a continued effort by all of our companies to improve the sustainability of our products.'