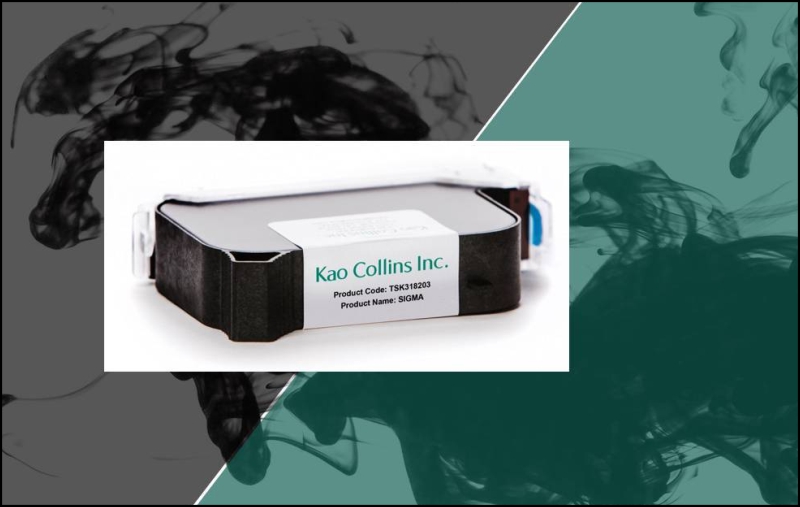 Kao Collins launches Sigma – a new Solvent Ink for HP
10 September 2020: US-based Kao Collins has introduced Sigma, the newest solvent ink for HP Specialty Printing Systems, with a Shelf Life of 24 months. According to the company, the Sigma ink is a fast-curing system for heatless inkjet printing, meaning there is no need for external heat sources or dryers It cures quickly on non-porous substrates. The ink is Light-fast, heat-resistant, and water-resistant and offers good performance on flexible films and foils used in the food and pharmaceutical coding and marking.
Sigma ink is created to support HP Speciality Printing Systems for TIJ coding, marking, and mailing production, delivering richer blacks with high durability on more difficult, non-porous substrates such as Plastics (Nylon, OPP, PET, PVC), Metals, Packaging (Glossy and UV laminated papers), and other non-porous substrates.
Kao Collins produces inks compatible with thermal inkjet (TIJ), piezo inkjet (PIJ), and continuous inkjet (CIJ) print technologies that adapt to the complexities of any substrate. Moreover, using specialized inkjet technology, Kao's textile inks are used on a wide range of garments and fabrics. Its Fibra textile inks are commonly used to print on: Natural fibres, Polyesters, Nylon, Cotton. Kao's textile inks are advancing DTG and DTF printing by offering low inventory, demand printing in the fast fashion industry.
Kao also offers security inks that include: Invisible fluorescent, Visible fluorescent, Ultraviolet invisible, IR invisible, UV longwave and shortwave, Lightfast and non-lightfast. Kao Collins has partnered with Honeywell Authentication Technologies to formulate a variety of customizable inks to meet specific requirements. Honeywell offers high-end security pigments for authenticity applications such as Currency, Military equipment, Passports, Pharmaceuticals, Tickets, Watches and Purses
Since 1990, the company has introduced innovative ink solutions enabling customers and OEMs to reduce costs, increase productivity, and expand offerings into various markets – graphics, commercial print, packaging, labelling, textiles, and consumer products. Kao Collins has produced thousands of unique inks for a wide range of clients around the world. Kao Collins develops inks for all the major printheads, including Dimatix, HP, Kodak, Konica Minolta, Kyocera, Funai, Panasonic, Ricoh, SII Printek, Xaar.
https://www.kaocollins.com/