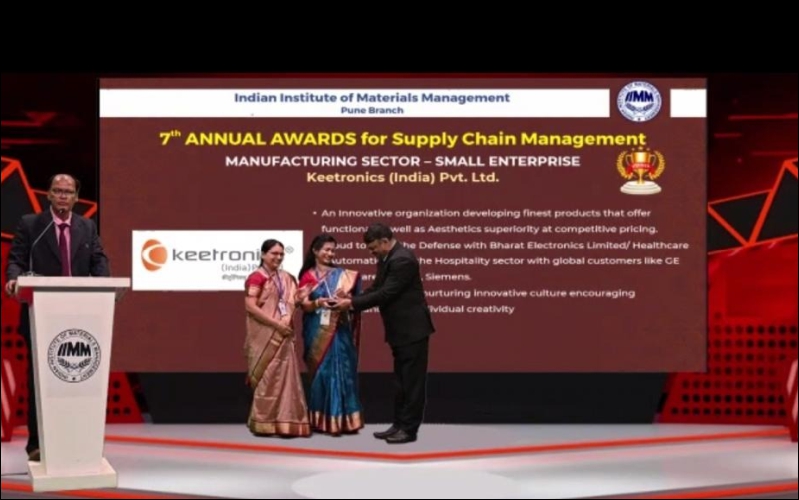 Keetronics India honoured by IIMM, Pune branch with the 'Supply Chain Management' award for year 2020-2021
18 August 2021: Indian Institute of Materials Management (IIMM), Pune Branch, presented the 7th Annual Award for Supply Chain Management to Keetronics India (P) Ltd. in the 'Manufacturing Sector-Small Enterprise' category. The selection was based on the enormous efforts by team Keetronics to ensure that the supplies to critical medical devices are made without any delay.
Rajesh Kulkarni, Founder and Managing Director, Keetronics, said, "Team Keetronics was not closed for a single day since the first lockdown. We managed to ensure the imports from China and other countries even during the lockdown. Keetronics produced a couple of thousand input devices for ventilators, ECG machines, syringe infusion pumps, neonatal care, micromucosys, x-ray machines and many medical devices during the lockdown.
Keetronics has over 23 years of experience in engineering and manufacturing customised inputs devices for human and machine interface by providing functional and aesthetic enhancement solutions for the industry. Visionary entrepreneur Rajesh Kulkarni and his team of engineers have sound experience in manufacturing membrane keyboards.
Using the latest material technology and design know-how, Keetronics can create precisely engineered products, which meets the needs and the budget of its customers. The company's expertise in computer aided design (CAD), close tolerance screen printing and the latest engineering techniques along with access to the precise laser cutting machine and digital printing, enables it to offer excellent prototypes in short run time.