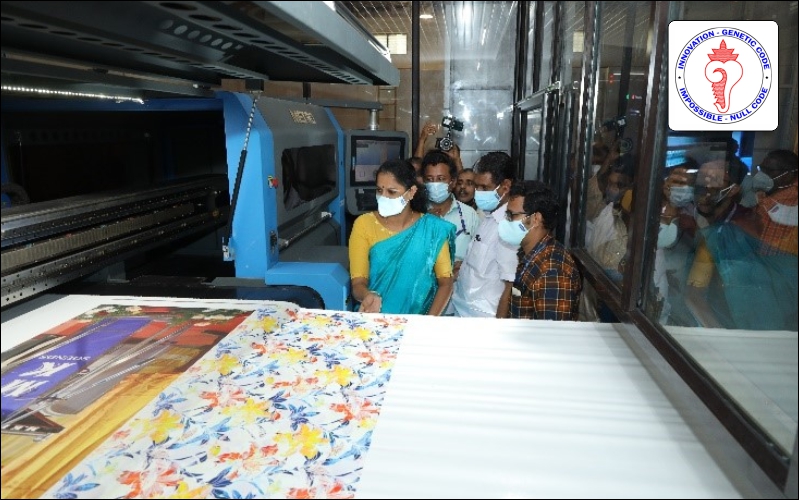 Kerala State Textile Corporation Ltd. (KSTCL) Installs ColorJet's Metro
28 December 2021: Under the leadership of Jayarajan, MD of KSTCL, a digital printing unit was conceptualized and given shape in September this year at their Nadukani Textile Dyeing and Printing Centre, near Kannur.
To meet the highest expectations of high-end printed shirtings, KSTCL chose the Metro digital inkjet printer manufactured by Colorjet India Ltd. The Metro not only meets the requirement of high-quality digital printing on fabrics made from cellulosic fibers but also is an excellent example of energy efficiency and low water consumption in textile processing.
Opening of the digital printing facility was formally inaugurated on September 16, 2021 by Ms. P. P. Divya, District Panchayat President in the Presence of Ministers of Kerala State Government. The inauguration function was also attended by the Director of National Institute of Fashion Technology (NIFT), Kannur.
Keeping pace with the rapid Digitalizing in Textile Printing, the Colorjet printer was chosen for its exceptional customer support, cutting-edge technology, high-quality output, and efficiency. It will enable KSTCL to reproduce vivid patterns or life-like images with ease. Colorjet provides the complete solution along with Raster Image Processing software that converts images/design motifs into machine language with minimal effort on the part of the machine operator.
Jayarajan KT, Managing Director, Kerala State Textile Corporation Ltd. (KSTCL) is appreciative of the prompt response and attention to details that Colorjet provided from the time they started discussing the investment plan to the handing over of a printing system as promised. Though KSTCL was specifically looking for a direct to fabric printing solution; Colorjet also has a number of other solutions that can print with pigment, acid or sublimation dye inks to print on a vast array of fabrics from finest of natural silk to run of the mill polyester-viscose home textiles to sarees requiring repeat sizes of 5 meters or bed linen that might require to be printed with patterns as wide as 300cm.