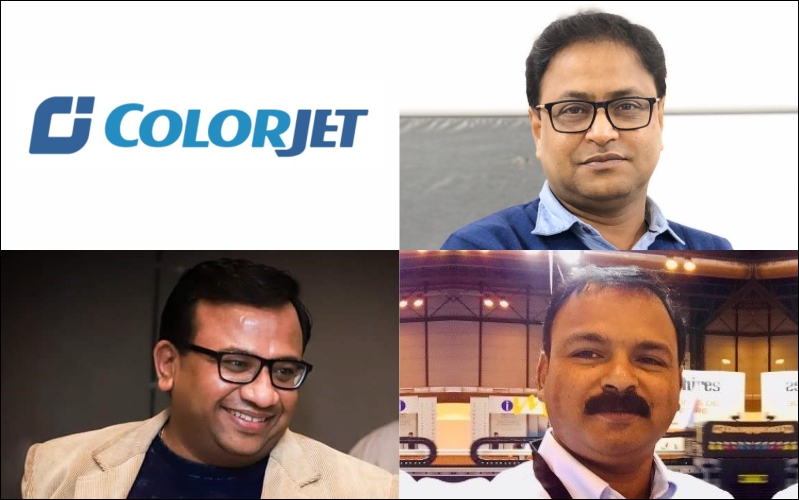 Key Appointments at ColorJet Group
29 July 2021: ColorJet Group, India's largest manufacturer of Digital Inkjet Printers has announced the appointment of Umang Singhal as the Business Head for its India Signage Business. In his new role, Umang shall drive business operations efficiency, revenue growth & profitability, scalability, and sustainability of the products & people.
Umang holds an MBA in Marketing from Newport University and comes with a vast experience of over 22 years in Sales & Marketing, Product Management, Production Printing, Office Automation, and ITeS Industry Segments. Before joining ColorJet India Limited, he had worked in various capacities in organizations including Latham India, HCL Info Systems and lastly with Ricoh India as Business Head for its Production Printing Division.
MS Dadu, MD of ColorJet Group said, "We are happy to induct Umang into the ColorJet family. His vast experience in business strategy & operations, go-to-market strategies, product life cycle management, and overall sustainability certainly adds to the strength of the company."
Umang Singhal mentioned, "I am delighted to be part of the ColorJet family. It is a great opportunity for me to utilize all my learning so far and take ColorJet to new heights. Feeling excited to work with one of the most progressive teams."
ColorJet Group also announced that Deborshi Paul Choudhury will now move to ColorJet International Business Expansion Previously, he was heading the Signage Business for Indian market where ColorJet gained a market share of 35% as per the IDC 2019 Q1 report. He has authored and been part of several business transformation and growth success stories in Signage Business.
As a part of his new role, Deborshi will spearhead the company's legacy at global platform and will be responsible for new market expansion, new business and ensuring client expectations are reliably met by ColorJet state-of-the-art products. He will work alongside Binoj Antony who is already into International Business assignment and shaping the ColorJet Signage Business at global platform.
Deborshi Paul Choudhury said, "It is an absolute privilege to be managing the International Business. We are in unprecedented times across the globe and it is clear that ColorJet Group is navigating successfully and maintaining its leadership position in the Indian industry. I am passionately looking forward to contributing towards the growth of ColorJet Group at the global level."
On the Occasion Binoj Antony Stated "It is great to see Deborshi in his new role. He is bringing in with him an entirely new perspective and strategy to our work and will act as a pillar to our growth. He is joining the international team to expand ColorJet operations on a global platform. Debu's vast experience in the signage industry combined with the existing presence of ColorJet will help us achieve new heights in the coming days."