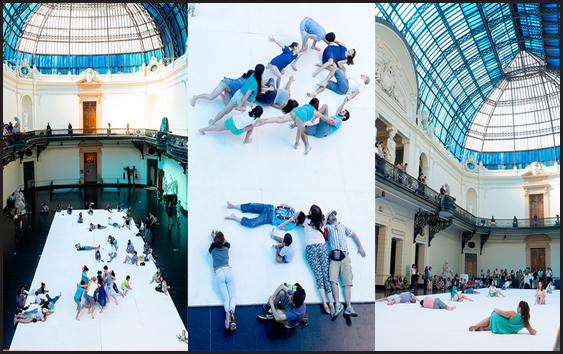 KIWO as tactile Art – A flocked Dance-Floor
06 April 2021: Early in 2015, KIWO became a part of an artistic dance performance in the Museo Nacional de Bellas Artes (National Museum of Fine Arts) in Santiago de Chile. The modern dance performance should take place in the central hall of the museum, under the impressive glass dome.
For this purpose, a special kind of dance floor was needed: A foam surface of ​​about 600 square meters, which should be flocked to create a soft sub-surface combined with good rubbing resistance that perfectly adapts to the demands caused by the dancers. No problem for the KIWO flock adhesive systems. First, the adhesive was sprayed onto the substrate in situ and then the flock was applied with a hand-held applicator.
– 600 square metre foam surface in the central hall of the museum, under the impressive glass dome
The feedback of the artist, the dancers and visitors was literally "Wow, how exciting – you simply had to feel it".
"In the field of adhesive technology, we can find a wide range of applications, with new capabilities and possible solutions," explains Thomas Starsetzki, Sales Assistant Industrial and Flock Adhesive Systems at KIWO. "The KIWO Applications Centre works together with its customers and clients and is delighted to assist you."
Once again, this project confirmed the versatility of KIWO products as well as the fulfilment of technical requirements.
www.macarenaruiztagle.com