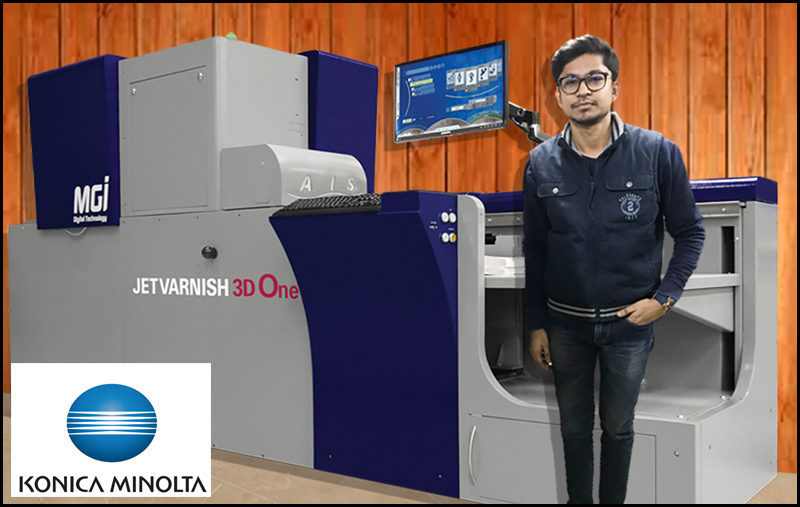 Konica Minolta installs MGI Jetvarnish machine at Bahubali Digiglam
12 December 2020: Following a successful installation of MGI JV3DS at Bahubali Digiglam Delhi in 2018, Konica Minolta Business Solutions, a leader in world-class printing technology, has installed another MGI JETvarnish 3D One at the same place. It is a simple, compact, and affordable digital embellishment press that provides sensory print applications for every size printer. Owing to the amplifying production demand, Bahubali Digiglam has also installed AccurioShine 101, a multipurpose offline foiling solution at its premises.
The need for both these installations is attributed to the growing production demand faced by Bahubali Digiglam in categories like specialty printing, packaging, and labeling. It also demonstrates Bahubali's strong faith in India's growing digital embellishment market, on the back of high satisfaction levels from Konica Minolta machines and its commitment to providing additional support to its clients and customers. So far, Konica Minolta has sold 20 MGI machines in India, which further exhibits its growing importance among consumers.
Bahubali is a leading manufacturer of invitation and wedding cards with a pan-India distribution network. The two new additions have further augmented its existing printing solutions and services, enabling it to cater to the increasing customer demands and serve them more seamlessly, even during a pandemic. Konica Minolta aims to create an opportunity for printers to increase and diversify their revenue streams. The brand believes that growth in the decorative embellishment area will be a real differentiator for many commercial printers who will be able to charge a high margin for the service.
Manish Gupta, General Manager, PP and IP marketing, Konica Minolta Business Solutions India said, " We are delighted by the confidence which Bahubali Digilam has with KM. The new install has further strengthened the bond between the two organisations. Bahubali's decision to go ahead with another big-ticket investment like this is a testimony to our portfolio of unmatched printing, packaging, and labelling solutions. We are delighted to witness high satisfaction levels from our client and hope this association will last much longer. Their long-standing faith in us further boosts our confidence in serving customers better and deliver them products that are aligned with their evolving needs and changing market dynamics."
Akshat Jain, Director of Bahubali Digiglam said, "A crisis like COVID-19 definitely presents challenges. But with that, it also brings opportunities to learn, embrace, innovate and adapt. Yes, the pandemic has made us realize the potential of digital solutions like never before. We are happy to install MGI's latest tech-driven machine as it not only boosts our productivity but also helps us smoothly adopt the much-needed digital transition."
The small operational footprint of the JETvarnish 3D One allows printers, finishers, and converters to have a full in-house production and prototyping print embellishment system without screens, dies, or plates. The all-purpose patented varnish formula allows both flat 2D Spot UV highlighting and sculptured 3D raised special effects on a wide range of substrate stocks up to 450gsm, from the offset and digital inks to lamination films and aqueous coatings.
www.konicaminolta.in