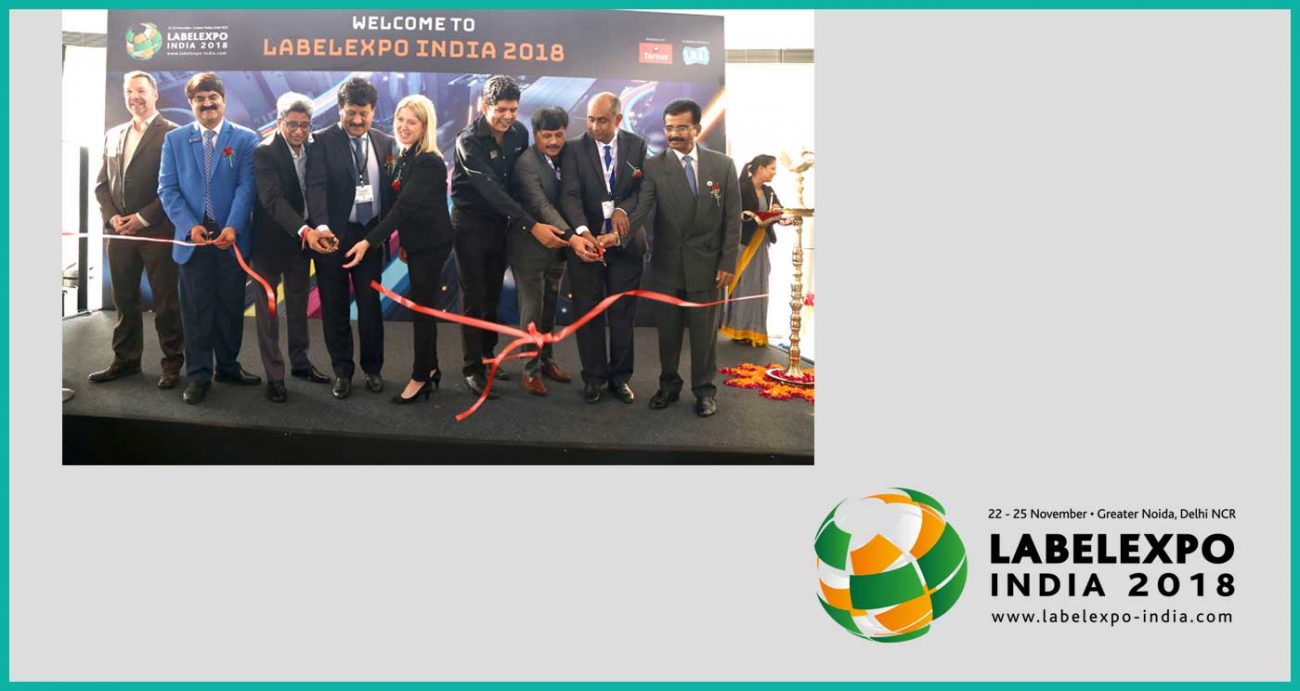 Labelexpo India 2018 largest till date
The 6th edition held at India Expo Centre & Mart in Greater Noida from November 22 to 25, 2018, reported highest ever visitor numbers in the region
The 6th edition of Labelexpo India, which took place at India Expo Centre & Mart in Greater Noida from November 22 to 25, 2018, was its largest show to date in the region. A total of 9,851 visitors from 55 countries passed through its doors over the four days of the show, 22.7% more than in its last edition in 2016 and the biggest visitor increase to date.
Lisa Milburn, managing director for Labelexpo Global Series, said: "We are absolutely delighted with the overwhelming success of this year's Labelexpo India. The fantastic visitor number surpassed all our expectations, and the sheer volume of sales achieved over the four days showed how valuable the show has been for generating new business. It is also resounding proof that the Indian label and package printing market is booming, with printer demand for new technology and innovation moving at an incredible rate. It also means that this show – the only dedicated event of its kind for the labels and package printing industry in the region – is more important than ever."
The show was also 28% larger in size, with 250 exhibitors occupying a total floorspace of 7,073 sqm compared to 200 across 5,899 sqm in the 2016 edition. This makes the 2018 edition the biggest Labelexpo show in the region to date.
The show was a catalyst for machinery launches and numerous sales achieved by many of the 250 exhibitors on the show floor to Indian converters, including Indian company Monotech Systems, who launched and sold two Jetsci Colornovo UV inkjet presses, and made a further eight sales at the show; Multitec, who announced the sale of two 8-colour presses; HP Indigo, who sold its 6900 press, and Vinsak, who sold two of their USAR slitter rewinders in addition to two Synchroline presses on behalf of Italian manufacturer Lombardi on day one of the show. They also announced a further four orders placed at the show floor.
Other machinery sales were achieved by Nilpeter, Omet, Xeikon, Rhyguan, Brotech, UV Graphic, SNM Enterprises, Hyden Packaging, Marks Print, amongst others. Other launches included IEEC's Ozonash and Lab Corona Treater; and Alliance Printech's Alliance A3 flexo press. Veepee Graphics, a pre-press trade house, launched a mobile application for its customers.
Also reflecting the buoyant mood of the industry, several strategic partnerships were announced, including Domino and Multitec, who have entered into an agreement for producing a hybrid digital press; and Konica Minolta Business Solutions and China-based Brotech Graphics who are partnering to source accessories for the Konica Minolta AccurioLabel 190 label press in India.
Complementing the Expo, an extremely well attended Brand Innovation Day took place on day one of the show. Brand owners and designers from a wide range of sectors took part in an exclusive series of seminars and educational sessions aimed at equipping them with expert insight into making the most out of their brand, how they can overcome key challenges on the path to future growth, and stay ahead of the competition in a fast-paced industry. In addition, Andy Thomas-Emans, strategic director for Labelexpo Global Series, moderated a lively panel discussion on product decoration, joined by representatives from SMI Coated Products, Esko, HP India and Avery Dennison.
Milburn continued: "The success of our Brand Innovation Day, coupled with our series of exceptionally popular forum events for converters around India, Sri Lanka and Bangladesh in the run-up to the show, also helped contribute to this show's achievement by building fantastic momentum. We saw a large delegation from Bangladesh attending Labelexpo India for the first time, which is hugely encouraging. We are also grateful to the unwavering support from key trade associations in the region including LMAI, AIFMP, DPA, ASPA, SLAP and FNPA. We very much look forward to building on this success for our next Labelexpo India in 2020."
Pankaj Bhardwaj, senior director & general manager, Labels Graphic Materials – South Asia, Avery Dennison, said: "This year's Labelexpo has further established its position as the most sought-after industry event in the country. We were able to not only meet with the well-established industry leaders but also with the new faces who want to explore the label industry. Happy to have received overwhelming response on the new products and solutions showcased during Labelexpo."
The 2018 LMAI Awards, sponsored by Avery Dennison, took place on the first evening of the show, which was extremely well-attended by exhibitors and association members at Labelexpo India 2018. The next edition of Labelexpo India takes place over October 28-31, 2020, where further 15% growth is anticipated as it takes on additional space at India Expo Centre & Mart, Greater Noida.
www.labelexpo-india.com