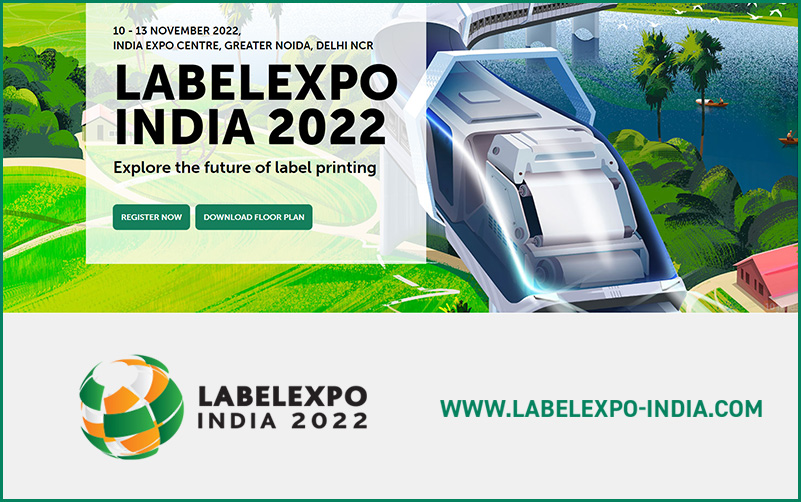 Labelexpo India 2022 to take place on 10-13 Nov '2022, at Delhi NCR
11 October 2022: The global labels market is expected to reach a volume of almost 78.5 billion square metres by 2026, according to a study by Expert Market Research. As such, a promising show – Labelexpo India 2022 will take place on 10-13 November 2022, at the India Expo Centre & Mart in Greater Noida – Delhi NCR. The show will bring the industry together for four days of live demonstrations of state-of-the-art presses, intelligent labels, finishing units, inks, dies and substrates from the leading manufacturers.
250+ leading suppliers are expected to exhibit their technology in the largest label and package printing event in South Asia, organized by Tarsus Group. Exhibiting companies will showcase their Digital and conventional printing presses, High tech label and packaging materials, Prepress and plate making technology, Finishing and converting systems, Inspection, overprinting and label application equipment, Dies, cutters, rollers, Inks and coatings, RFID and security solutions, Software and interactive technology, etc.
The global labels market is being led by the Asia Pacific region. The labels market is driven by the increasing demand from the end-use sectors such as pharmaceuticals, food and beverages, and FMCG. The materials such as paper-based labels account for the majority of the labels market and are followed by plastic labels. Pressure-sensitive labels are a significant segment of the global labels market.
It is expected to remain the largest due to its versatility in design as well as graphical options and ease of use, along with its superior performance characteristics; all of these properties make it a common choice for the consumer-packaged goods industry. In-mould labelling is directly performed on the mould of the container, thus, eradicating the requirement for a physical label structure. This type is expected to receive the highest growth in mature regions, owing to its durability, affordability, capabilities of 3D decoration and recycling. Liner-less labels is another labelling technology intended for sustainable development.
On other hand, the Indian label industry is complex, dynamic and fast-growing (at 8% per year). Although wet glue labels are still growing, they are quickly making way for pressure-sensitive and flexible labels. Flexo and combination press also growing in a market traditionally dominated by offset.
www.labelexpo-india.com