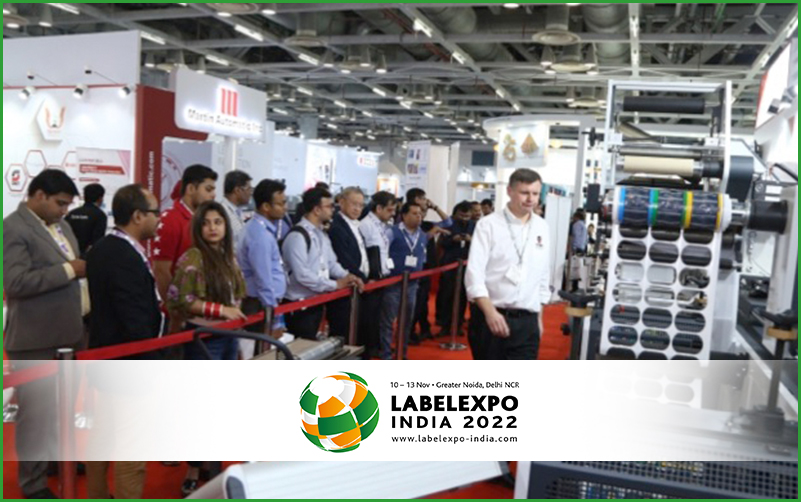 Labelexpo India 2022 Welcomes 22% More Visitors – Show Makes a Triumphant Return with 250+ Exhibitors
08 December 2022: Labelexpo India 2022 made a triumphant return, welcoming over 12,000 visitors to the India Expo Centre in Greater Noida on the outskirts of Delhi an increase of 22% compared to the last show in 2018. It also featured Indian Label Association (LMAI) awards, showcased in a gala event at the showground. Labelexpo India partners included the Labels Manufacturers Association of India (LMAI), All India Federation of Master Printers, World Print & Communication Forum (WPCF), World Packaging Organisation (WPO), Printing Industry Association of Bangladesh (PIAB) and the Sri Lanka Association of Printers (SLAP).
The show was opened by Pradeep Saroha, Event Director of Labelexpo India, Rajesh Nema, President LMAI, Jaideep Singh, Hon. Secretary, LMAI, Raveendra Joshi, President AIFMP, Kamal Mohan Chopra, President, WPCF, AVPS Chakravarthi, Global Ambassador WPO, Mohammad Shamsul Islam Sr. Vice Chairman PIAB, Peter Deckker, President SLAP and Andy Thomas-Emans, Strategic Director of Tarsus Labels, Packaging and Brand Print Group.
The show featured more than 250 exhibitors from around the world, and particularly showcased the advances made by the Indian supplier industry in the four years since the last India show. The aisles were buzzing and multiple deals were closed through the four days of the show.
Commented Pradeep Saroha, event director Labelexpo India 2022, 'Labelexpo India 2022 was the biggest show so far in its history in terms of both participation and visitors. The four-day show was packed with new visitors from commercial print industry eyeing labels market and neighbouring countries including Bangladesh and Sri Lanka. I would like to extend my gratitude to all of the associations and partners for their constant support in making the show a success.'
Among key global launches at Labelexpo India 2022 was a hybrid press developed jointly by Domino and UV Graphic Technologies, incorporating a retractable digital print bar in line with multi-colour digital and flexo print units.
Multitec premiered its S1 full servo press in an 8-color 450mm-wide configuration with combined LED-UV and UV dryers and multi-layer coupon label kit. Webtech unveiled the 410mm-wide servo-equipped X1 flexo press with a smart E+L inline inspection system.
On the digital side, Monotech showcased a range of machines including the Colornovo hybrid press and an entry-level aqueous inkjet press. The company also demonstrated a blockchain-based track and trace system built on variable QR codes and hidden trigger images.
Pulisi displayed its Aobead DPIM330 digital press, incorporating in-line flexo units, while AKO Flexo LLP launched its Delta flexo press, available in widths up to 520mm. Both machines are built in China with Indian production sites to follow.
Global suppliers were also present in strength. HP Indigo demonstrated a 6k press, which was sold at the show, while Konica Minolta showed its AccurioLabel 230. Avery Dennison, BST, GEW, Omet, Bobst, DuPont, Esko and Miraclon were also present.
The show also featured a Digital Embellishment Trail. Monotech demonstrated its dSpark UV inkjet label digital varnish and cold foiling press to coincide with the trail, while Vinsak promoted laser die cutting and Konica Minolta its MGI JetVarnish3Dweb.
Appadurai A, country manager, HP India Sales, commented, 'Labelexpo India is an important show for us as far as label business goes. We definitely got focused people at our stand that we don't see in other shows.'
Amit Sheth of Pulisi, added, 'Labelexpo India 2022 has been very exciting for us. We had been looking for such a platform to network with industry friends. And we look forward to the Labelexpo series.'
Grant Blewett, chief commercial officer, Miraclon, said, 'Labelexpo India is the premier labelling show within the Indian market. Labelexpo is something that is very important for Miraclon and has been for many years, so it was good to be back. We were impressed with how busy it has been and have seen many really good customers and prospects. '
Jade Grace, Labelexpo Global Series portfolio director, said, 'It was wonderful to see Labelexpo India bouncing back after four years away. The show was buzzing with excitement and many deals were done – it was clear many converters were waiting for the show to make their new investment decisions. I would also like to thank all our partners who helped make the show the resounding success it was. Our next event is Labelexpo Southeast Asia in February 9-11 which is gearing up to be a fantastic show, after an absence of 5 years in the region due to the pandemic. We are very much looking forward to be back in Bangkok, following the successful editions of Labelexpo in the US and India. The industry in this thriving region is so ready to get together to do business and network, and we cannot wait to hold the event to facilitate this.'
www.labelexpo-india.com