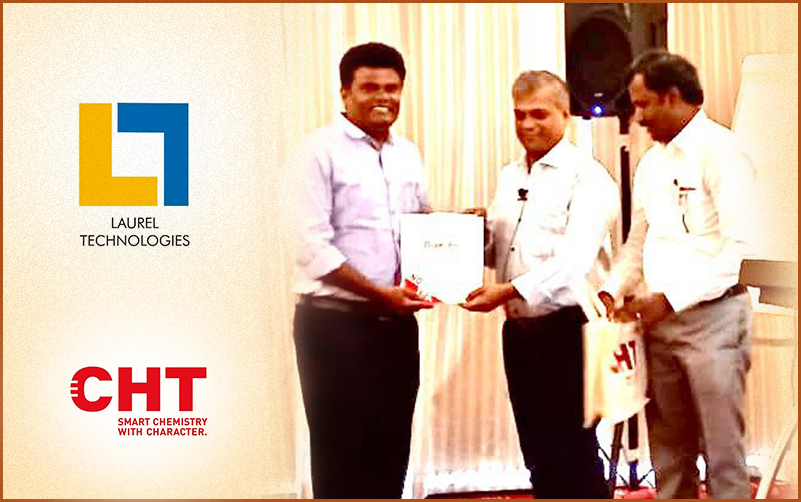 Laurel Technologies Extends Portfolio by Becoming a Distributor for CHT
18 April 2023: Sakthi Gowtham, MBA, an industry veteran with 15 years of experience, shares his journey and the recent steps taken on the path towards progress.
How did you start off and what were the initial days like?
Our company Laurel Technologies was started in the year 2014. With a solid experience of working with the screen printing industry for almost a decade; I had an inspiration to initiate the entrepreneurial journey of my career. We are serving the textile and graphics screen printing market with the product offerings catering pre-press/ value added inks and specialities and auxiliary items. We are representing brands like Huber Inks (Germany), SkyScreen International (Ulano, Nittoku mesh cloth and auxiliary items) and recently we have taken distributorship of CHT (Germany) for Tirupur. We are supplying 80 plus products from established brands serving 350 plus customers.
When you did take up CHT dealership and how does it enhance your range of business offerings ?
We had taken up the distributorship of CHT in the month of January 2023. This company has a wide product range for the textile printing community such as binders, water base inks, silicon inks, discharge inks, digital inks, etc. The company offer products that are 100% sustainable and I am pleased that CHT is one among the few companies having cradle2cradle Certification (The inks that are 100% bio-degradable; after some period, the decomposed ink becomes nutrition for the soil). So, for an environment-conscious company like us; CHT is an ideal partner to work with offering solutions with performance and sustainability.
What are the products you are offering from CHT to your clients ?
While there are many products, I would like to highlight the following key, important products that we are offering to our textile screen printers: 1) Excellent formaldehyde free discharge inks which are certified by ZDHC Level 3; these inks can be used even for the kid's garments, 2) Silicon inks for sportswear, 3) Speciality inks for value added prints like PUMA high gloss gel, multi-shine metallic inks, 4) Excellent primer for digital textile printing and 5) Self-curing water-based non-PVC inks for polyester fabric.
What are the ways by which you will promote CHT Products among your clients ?
We are constantly in touch with our customers through our sales team and we showing live demonstration of our inks at our customer place with the assistance of our CHT team. In addition, we are in touch with the buying offices and we regularly update them with our new innovations in terms of products and certifications. They nominate us as the authorised vendor. Export printers use our product with confidence as our products are strong in terms of quality assurance and certifications.
Did you take any formal training for understanding CHT products ?
Yes, the technical team of CHT regularly hosts training programmes for us in their corporate office. They demonstrate with their lab trail printing unit and give us the inputs. We get on-field training also during the trials conducted at the customer places.
What is the future scope for expansion and which other products do you plan to add to your basket ?
At Laurel Technologies we are always strive to keep our product portfolio matching with the current trends of the market. In future, we are planning to add more products in digital textile printing and silicon prints. Our aim is to penetrate the market for cradle2cradle certified inks catering to the global apparel brands who are majorly aiming for solutions with environmental and social sustainability.
M. Sakthi Gowtham, MBA (98437 62668) / business.laureltech@gmail.com