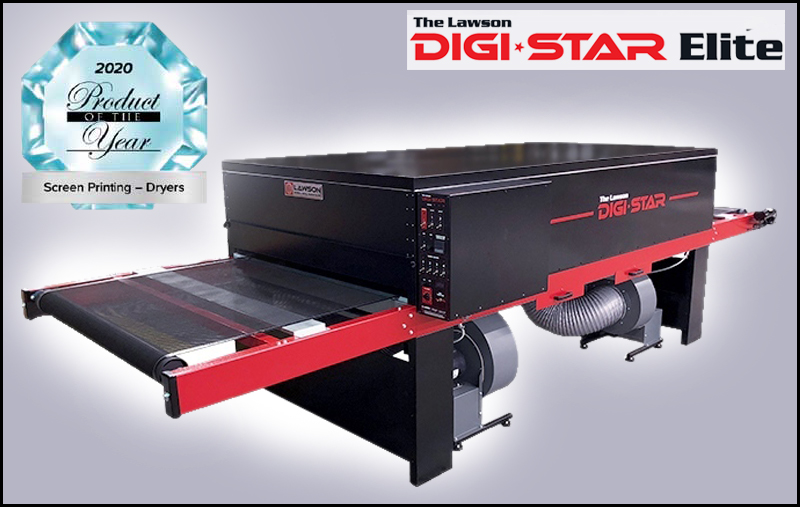 Lawson Releases Latest Digi-Star Elite Conveyor Dryer
11 January 2021: Lawson Screen and Digital Products has just released the newest model of one of its most popular conveyor dryers: the Digi-Star Elite. It has all the features of the new dryer's predecessor, the Digi-Star, with added smart technology and touch screen controls. This machine is designed for curing digital, water-based, and plastisol inks.
This revolutionary new smart dryer utilizes silicon controlled rectifier – power controls which allow for fast, precise control of the dryer – and it is the only product in the industry to use such technology. This level of control optimizes energy efficiency and consistency, eliminating dead time and heat fluctuation within the chamber. Items that pass through the chamber are cured using a combination of convection jet-air and infrared radiation.
The smart dryer is equipped with wi-fi, allowing users to control it remotely via smartphone or tablet or with the attached touchscreen. This use of technology makes it possible for the dryer to remember numerous setting combinations for quick and consistent use, introducing a whole new level of quality control and efficiency. For example, a user can save settings specifically for dark polyester garments, DTG-printed inkjet on hoodies, and screen-printed water-based ink on cotton and can switch between them easily. For every type of printing one does, the Digi-Star Elite can be programmed to recall all settings. As the user tweaks the settings, these changes are logged. Print managers can then see who made what changes and when.
The compact chamber design with customizable chamber and belt dimensions make the Digi-Star Elite a perfect fit for any shop setting, small or large. Maintenance of this machine is extremely easy, with the heat chamber totally accessible without any tools. Lawson promises a one-year parts warranty, 24/7 tech support and participation in their Trade In, Trade-Up program with the purchase of this dryer. 
www.lawsonsp.com