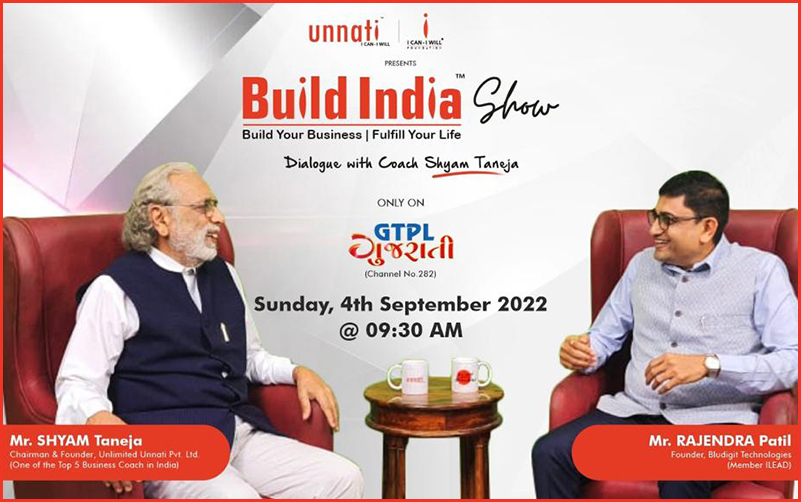 Leadership Coach Shyam Taneja in Dialogue with Bludigit Technologies Founder Rajendra Patil on GTPL Gujarati TV
28 September 2022: Bludigit Technologies' Founder & CEO Rajendra Patil was interviewed by renowned Leadership Coach Shyam Taneja as a part of his "Build India 75"(Build your business/Fulfill your life). The show was presented on GTPL Gujarati TV on 4th September 2022 with wide spread coverage. The dialogue covered update on Bludigit Technologies, what machinery and solutions it offers to industries, his business strategies for the future, etc.
'Build India 75' is a 52-week Free Zoom webinar series, held every Sunday at 11 to 12 PM by Leadership coach Shyam Taneja (IIT, IIM Alumnus) and other experts. The topics covered in this Zoom webinar are to enrich the life and business such as running a family business for success, China shifting business (post Covid19), Sales Techniques, Budgeting, Organisation Strategy, Systemic Problem Solving, Quality Management, Leveraging technology/automation, etc. Shyam Taneja, founder of Can I Will foundation, is respected, admired and loved as Guru. In his 40 years of working with SMEs and corporates, he has been instrumental in transforming lives and businesses.
On the other hand, Rajendra Patil's journey from the corporate world to starting his own B2B company belonging to an agricultural family is very inspiring and attractive. He has 20+ year experience in textile and graphic printing industry. He is on a mission to enable 10,000 textile and graphic entrepreneur, design studios, digital printers to automize the art creation, design department, color ways, designing and CTS (Computer to Screen Engraving Equipment) process with state of the art Technologies and 500+ customer handling experiences.
The company's product portfolio includes: Flat and Rotary Screen Exposing and Screen Developing Machine in association with World's leading companies CST Gmbh (Colour Scanner Technologies GmbH, Germany) and Nova Inter Tech Co., Ltd., Thailand which offers Chemical Free Rotary Nickel screen cleaning products. Bludigit Technologies also offers Consultancy Services, Installation and Training.
www.bludigit.in