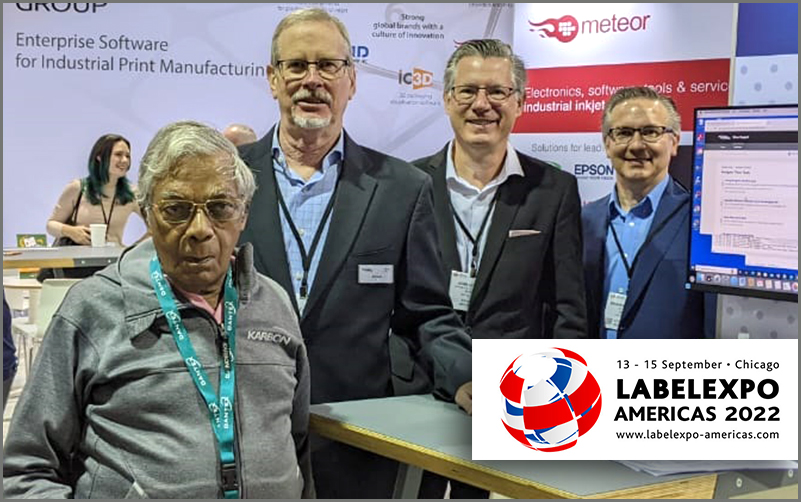 M. M. Raju of Srinivasa Enterprises is Future Technology Focussed is Evident from his visit to Labelexpo Americas 2022
14 September 2022: Screen printing industry veteran M. M. Raju, the founder of Srinivasa Enterprises, is a ME (Mech) who remains a role model worth emulating even at the age of 88 years. Even at this advanced stage of life, he is full of enthusiasm about his business, going to his office on a regular basis. He also remains focused on staying updated about future technology, which is evident from his travelling abroad to visit Labelexpo Americas 2022, being held at Donald E. Stephens Convention Centre, Chicago, USA from September 13-15, 2022.
Srinivasa Enterprises are manufacturers of all the types stickers, barcode stickers, screen printing, based at Bhandup, Mumbai. It has been 37 years since he has started the company and 2 among his 7 daughters – Anita Chinni and Anureeta Mendjoge – have joined the business and are taking care of it from a NextGen perspective.
Over the decades, Srinivasa Enterprises has evolved and they are today one of the reputed and leading players in various types of stickers, catering to a wide range of consumer industries and also exporting packaging materials. They have 20+ good clients whom they are working with since many years. Now, even at this age, he comes once in a week to the factory to see the overall development.
Srinivasa Enterprises has established a reputation of showcasing quality work at competitive prices. Consistent focus on technology up-gradation and product development has made them one of the most noted manufacturers and suppliers in this domain. Their modern production techniques and skilled manpower have assisted them in offering a wide range of products such as all types of stickers including barcode sticker and screen printed sticker.
In addition to the hundreds of new product launches and live demonstrations from 400 exhibitors, Labelexpo Americas 2022 also includes feature areas that focus on fast-growing parts of the industry. The show witnessed a number of exciting world premieres of digital press technology, marking a new stage in the transition between analog and digital printing.
The sheer number of global digital press launches at Labelexpo Americas 2022 demonstrates the importance of this show – the first time label converters have had the chance to see this exciting new machinery up close and in action for three years.
Complementing the digital press demonstrations is the Digital Embellishment Trail, and visitors can learn more by attending the two-day topical conference program, or the in-depth technical master classes covering Digital Embellishment and Self-adhesive Label Materials.