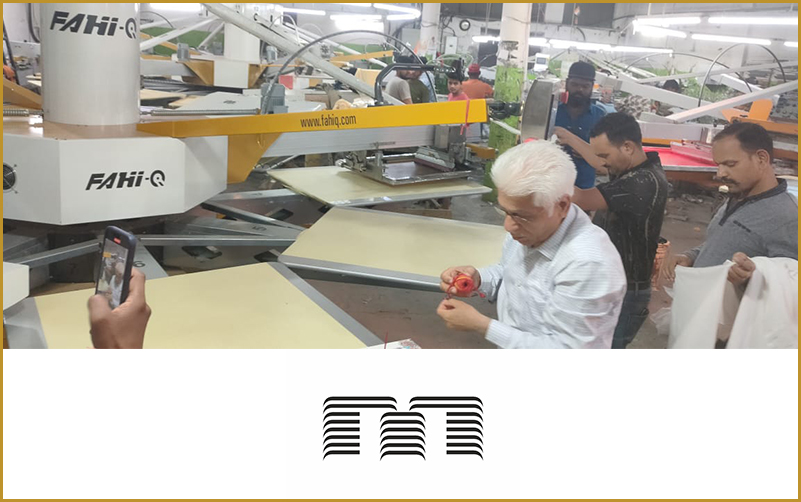 Madaan Hosiery Supports PM Narendra Modi's 'Make in India' Initiative – Adds One More Fahi-Q Textile Printing Machine
19 April 2023: Ashish Madaan, Director, R&D and Marketing of the Ludhiana-Based Company Elaborates on the Reasons for Adding One More Fahi-Q Textile Printing Machine to Their Existing Infrastructure
Madaan Hosiery (P) Ltd. is a Ludhiana-based printing house. The unit was started 27 years ago, in 1996 by my father Subhash Madaan, who is presently the chairman of the company. My brother Sumit heads the production and operations, whereas I take care of Marketing and R&D. The unit is spread over a 20,000 sq. ft. area and has a staff strength of 80 plus.
The infrastructure includes one Roq textile printing machine, one Grafica textile printing machine, two Fahi-Q textile printing machines, 12 manual printing tables of 100 ft, fully equipped screen exposure set up and six 'Voltex' manual screen printers.
Another Fahi-Q machine is added to our existing machines, giving wholehearted support to the 'Make in India' initiative of PM Narendra Modi. The machine is at par with any other international brand in terms of print quality and production and it is backed by a reliable service team.
Madaan Hosiery is now working on its new printing unit, to be spread over a 22,000 sq. ft. area, which will be operationalised in the next six months. It will be a fully automated, modern printing unit.
I would give the credit for our success to continuous Research & Development (R&D) in the areas of printing and hi-core fashion, thereby officially providing creative solutions to end users. Our client list includes top notch, national and international apparel brands. The main products are heat transfer and direct printing on garments and has a daily capacity of 23,000 pieces.
I have praise for Vishal Suri of Antra enterprises, the authorised distributor of Fahi-Q in Ludhiana. His systematic approach and guidance about the machine as well as the excellent after sales services provided are appreciated. He also organised a well-planned training-cum-troubleshooting session for the manpower working on the machines. In fact, we can say that due to his impressive efforts, the brand has more than fifty machines in our region.
There is a lot of potential for growth and development if we analyse market trends and predictions.
As per several news reports that have been published by noteworthy global analytical firms, it is foreseen that in the coming years that follow, there will be unique challenges and opportunities coming up for the apparel industry as brands navigate an uncertain economic climate and a shifting market landscape.
It has been emphasised by experts worldwide that sustainability has become a major concern for consumers and businesses alike, and the apparel industry is no exception. One can clearly discern the fact that the consumers are becoming more conscious of their impact on the environment and are therefore, demanding clothing made from sustainable materials and produced in an environmentally responsible way to a far greater extent than they used to earlier.
Industry pundits have also observed that the direct-to-consumer (DTC) mode is fast becoming a key feature of the apparel industry, as consumers look for more personalised and convenient shopping experiences. Taking this into consideration, the brands are increasingly seen bypassing traditional retail channels and selling their products directly to consumers through their own online stores and showcasing their products on social media platforms. These developments not only enhance the buying experience but also allows such brands to closely manage their brand image and gain valuable data on their customers.
Madaanhosiery2@gmail.com