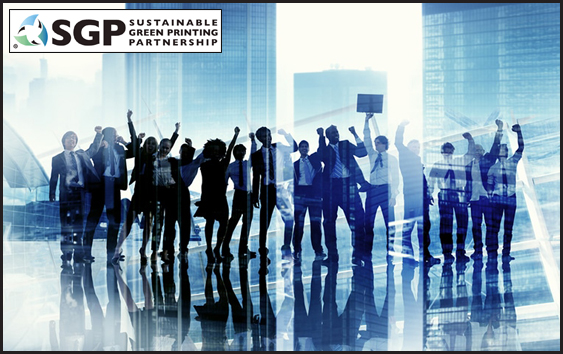 Marketing Workshop for Sustainable Companies Now Open for the Public
10 March 2021: Sustainable Green Printing Partnership (SGP), the leading authority in sustainable printing certifications, announced that it will be offering a three-part education series titled "Sustainable & Profitable Print Marketing: How to Waste Less & Sell More by Marketing Smarter" is now open to any sustainable company wanting to improve their marketing program.
"Sustainable companies that follow SGP inquire about joining the workshop," said Jonathan Graham, SGP Chair and TE Connectivity representative. "The content, while focused on sustainable printers, is applicable to any company with sustainability as a core value. David Murphy, the workshop leader presents simple and inexpensive ways to transform marketing through SEO optimization and other digital marketing techniques. SGP is happy to extend the workshop to companies committed to a sustainable future."
"Print buyers increasingly expect their printers to practice sustainability," said David Murphy, founder & CEO of Nvent Marketing. "Print providers understand this but need to learn how to position and promote their sustainability commitment as a differentiator in a competitive market. This is not a one-time task, but rather an ongoing best practice that can yield incremental business from discerning buyers."
Three 90-minute sessions will be held on March 17, 24 and 31 at 1:00 pm ET. The workshop will cover market strategy, brand positioning and demand generation for return on investment (ROI). The cost to participate is $199 for SGP Community Members which includes SGP Printers, SGP Applicants, SGP Patrons, SGP Resource Partners and SGP Brand Leaders and $299 for non-SGP Community Members. All sessions will be recorded and links made available to paid attendees. Late registrants receive the links for the events that were missed.
www.sgppartnership.org/certification