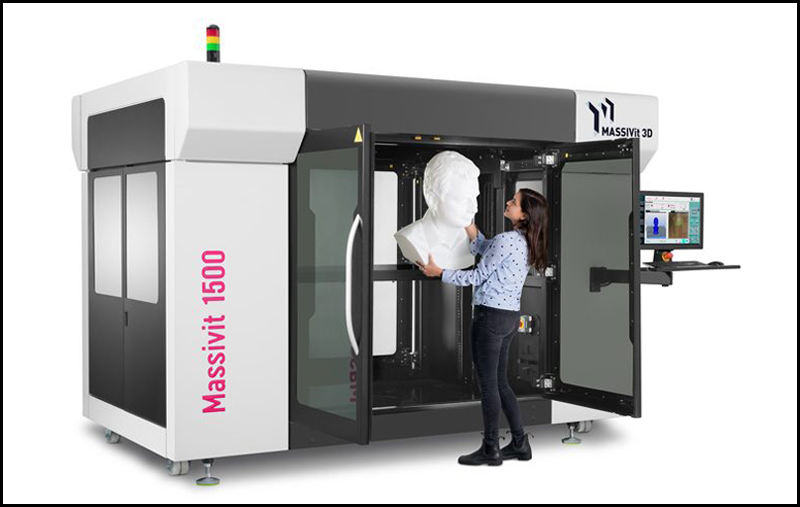 Massivit introduces a massive 3D printer series
26 December 2020: Massivit 3D has introduced a portfolio of massive format 3D printers that leverage patented, high-speed additive manufacturing technology to serve multiple industries including automotive, marine, construction, entertainment, and visual communications. Massivit 3D has introduced its 3D printer series such as Massivit 1800, Massivit 1800 Pro and Massivit 1500. These printers produce full-scale prototypes, molds and models within hours, instead of weeks. Massivit 3D's advanced, patented technology offers a unique, variable-resolution capability as well as the creation of support-less structures, ensuring cost-effective production that minimizes labor and material waste.
Whether out of home, in store or zipping past on a promotional vehicle, with these large format 3D advertising gives can the power to surprise and charm audience with every new campaign; allow consumers to touch, feel, and fall in love with brands. Recognized brands, including Coca Cola, Carolina Herrera, Louis Vuitton, Macy's, Netflix, Nike and more have adopted large format 3D printing.
The Massivit 1800 Pro offers enhanced performance, flexibility and control. A new Mega Quality resolution combines strength and quality and operators can now predefine Variable resolutions for cost efficiency. On the other hand, the Massivit 1800 Flagship 3D Printer is the first of its kind to produce super-size, crowd-stopping signage, displays, and props for visual communication. The Massivit 1500 Exploration Printer provides a first step into the magic of large format 3D printing for visual communication at an affordable price. It is designed to cater for print production spaces with a limited height.
Meanwhile, the Massivit Tool Builder (MTB) will soon be launched. It is designed to address the tooling requirements of a range of industries including automotive, aerospace, marine, and energy that require manufacturing of large parts made of composite materials. The MTB is a large format, digital, hybrid, 3D printing system that shifts the paradigm for large tooling by consolidating two technologies into one, using Massivit 3D's Cast-In-Motion (CIM) process.