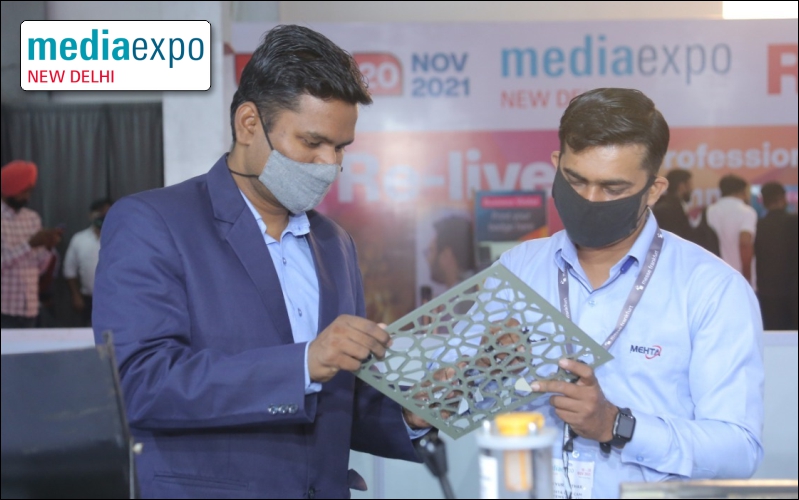 Media Expo New Delhi 2021 Makes a Triumphant Comeback with its First EditionAfter Lockdown
18 December 2021: Reconnecting businesses in indoor, OOH, digital signage and print advertising industry, Media Expo New Delhi concluded its first ever post-lockdown edition on a successful note. The display of latest innovative product and solutions attracted attention of 5,834 business visitors at the fair at India Exposition Mart Ltd, Greater Noida.
Making an outstanding return through its 47th edition, Media Expo New Delhi emerged as a crucial meeting place for businesses engaged in indoor, OOH, digital signage and print advertising. With more than 100 brands showcasing their latest innovations, the trade fair garnered attendance of visitors from across the country.
Arrow Digital, Colorjet, HP India, Mehta Cad Cam, Mimaki, Monotech, Rextone, Orafol, Silicon Infotech and Timex Bond were among the key exhibitors who were a part of this significant three-day business event. Furthermore, international brands Kao, Seiko and Reiko showcased their products at Media Expo for the very first-time through DPI 360 and Unique Sign.
Commenting on the exhilarating response received at the show, Raunak Kumath, General Manager, Orafol India, shared "The overwhelming crowd and response from the visitors has been extremely impressive throughout the show days. For a company like us who have been into business since the last two years in India, Media Expo has given us the bandwidth to interact with customers along with the opportunity to increase our brand visibility."
Media Expo New Delhi 2021 majorly focussed on inducing industry reconnection and business recovery through its intensive sourcing and networking platform which featured latest innovations and green advertising solutions. Smarth Bansal, GM Product / Brand Management, ColorJet, who was also impressed by the peak response towards their new product launches, stated "The show has been really fantastic and there has been a huge turnaround in audiences and visitors. This year, we showcased our new technology of UV printing machines and eco-solvent printing through Vulcan Prime and Soniq HQ Plus, which will enable businesses to move towards sustainable printing and neutralising the carbon footprint. I look forward to the next edition in Mumbai."
The trade fair featured several 'Make in India' products depicting the growing prowess of India's local manufacturers. Business visitors and buyers converging from across India were largely impressed by the quality of product showcases, the product launches and were eager to explore new innovations on the show floor.
After the success of their first post-lockdown edition, the organiser Messe Frankfurt India aims to carry the momentum forward and welcome the advertising fraternity through the successive editions of Media Expo Mumbai from 12-14 May 2022 and Media Expo New Delhi from 02-04 September 2022.
www.themediaexpo.com