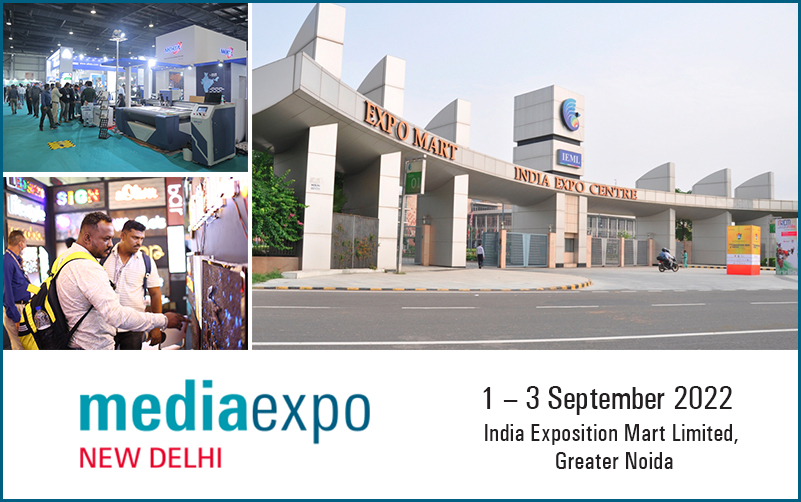 Media Expo New Delhi 2022 to Reflect Changing Trends and Technologies
31 August 2022: With confirmed participation of 120 companies, Media Expo New Delhi 2022 is gearing up to welcome the advertising fraternity at India Exposition Mart Limited, Greater Noida on 1st September 2022. The trade fair aims to display evolving advertising trends and technologies in signage, indoor and OOH advertising segments.
After a successful exhibition in Mumbai, Media Expo is ready for the commencement of its 49th edition at India Exposition Mart, Greater Noida from 01-03 September 2022.
Bringing cutting-edge advertising tools and technologies all under one roof, the trade fair will showcase products from 120 companies, including Arrow, BriteJet, ColorJet, CoSign, Epson, Kao, Metamark, Mimaki, Negi Sign Systems, Olive Premium, Plasto India, Skytech, Sun Sign, Super US and Virgo ACP.
Envisioning yet another buzzing edition of Media Expo this year, Raj Manek, Executive Director and Board Member, Messe Frankfurt Asia Holdings Ltd, stated "The success of our recently held Media Expo Mumbai was an optimistic sign. It signalled gravitation towards emerging trends and technologies in the Indian advertising space. Heading for our second edition this year, we are positive that the industry gathering in New Delhi will prove highly fruitful in meeting the ever-evolving industrial demands and foster meaningful business interactions."
Complementing ubiquitous digital ad platforms, the physical advertising space continues to be an unparalleled channel for brands to draw in their audience. With the ongoing development and upgradation of metro stations and airports, the exposure of signage and OOH advertising will become much more prevalent within this decade.
Through its three-day proceeding, Media Expo New Delhi 2022 aims to serve as a high-value sourcing and networking platform for the Indian advertising fraternity.
www.themediaexpo.com