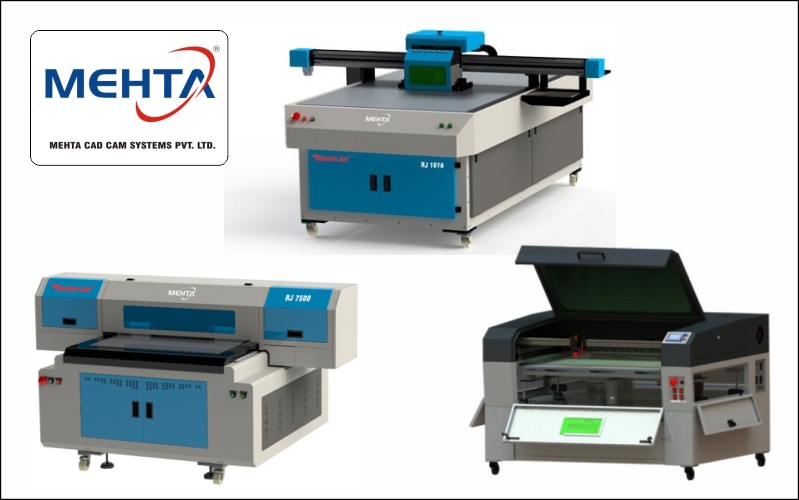 Mehta CAD CAM Systems expands indigenous range with UV Flatbed Printers & High Speed Laser Engraver
23 April 2021: UV Flatbed Printers by Mehta CAD CAM Systems (P) Ltd. have revolutionised the domestic and the International market. UV printing technology is replacing screen printing, pad printing on different substrates in many industries. UV Digital printers are getting extremely popular because of their capability of printing directly on various mediums.
Mehta's customized small-size UV Flatbed printers RJ1016 and RJ7500, are very popular. RJ1016 has a working area of 1,000 mm x 1,600 mm and RJ7500 has a working area of 700 x 500 mm. RJ7500 has a Z-axis facility of table up and down up to 30 cm; such as direct printing on boxes having different heights. These printers are equipped with industry best GH2220 print heads from RICOH. Mehta's UV Printers are made with extremely high quality of key components like Panasonic A.C. servo motor, Taiwanese and German ball screw, LM guide.
Mehta Cad Cam Systems (P) Ltd. is a pioneer for 22 years in Co2 laser technology. Today, that technology has countless applications in different industries. Erica, Mehta's high speed industrial laser engraver is nearly maintenance-free; thanks to the high-grade AC servo motor and the durability of X-Y rails equipped with metal rollers which do not wear out even in 5 years. Erica is equipped with a Co2 metal laser tube from the world's foremost Co2 metal laser tube manufacturer, Synrad, USA.
Mehta has already established Synrad's refilling and repairing plant in their premises in Ahmedabad and now the repairing and refilling of metal laser tubes will be done faster.
Erica laser engraver is widely used for precision engraving and cutting. It is also popular in intricate cutting of different types of heat-transfer materials and fabrics. Long life metal laser tube and high-speed precision movement because of the AC servo motor makes Erica the best machine in the market.
www.mehtaindia.com or call on 75750 09639 / E Mail: mktg@mehtaindia.com