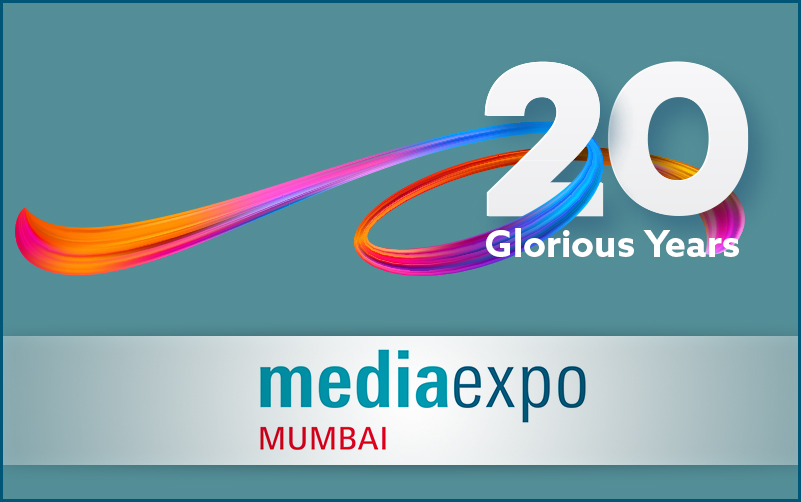 Messe Frankfurt India's Media Expo Proudly Serving the Industry for 20 Glorious Years
21 February 2023: Marking a 20-year legacy of connecting the print and signage advertising industry, Media Expo will celebrate its Golden Jubilee edition at Bombay Exhibition Centre, Mumbai on 2 March 2023. With the inclusion of Screen Print India – Industrial zone on the show floor, Industrial Print Excellence Awards and a panel discussion, the trade fair will serve as a high-octane and diverse meeting point for industry professionals and industry stakeholders.
Media Expo is all set to host its 50th grand edition from 02-04 March 2023. This Golden Jubilee edition is poised to be a three-day mega celebration of new opportunities and bustling business conversations for ad industry professionals.
Expressing his gratitude to the stakeholders of Media Expo for their empowering support, Mr Raj Manek, Executive Director and Board Member, Messe Frankfurt Asia Holding Ltd, shared "It is an incredible milestone for Messe Frankfurt India and for the Media Expo team. The unwavering trust and commitment of our exhibitors, visitors, and the associations who have supported us through this epic journey has been the driving force behind the success of our trade shows over the last two decades."
Comprising of some of the biggest manufacturers in the printing and signage industry, the exhibition will showcase the latest applications and machines in printing and signage from around 170 exhibitors, such as: HP, Mehta Cad Cam, Cosign, Mimaki, Negi Sign Systems & Supplies Co, Rextone Industries Ltd, Silicon Infotech, Britomatics India (P) Ltd. and Orafol.
Introducing Screen Print India – Industrial and IPE Awards
On the occasion of its 50th grand edition, Media Expo will feature Screen Print India – Industrial – a special zone showcasing the industrial screen-printing segment encompassing a variety of functional and industrial applications. Some of the exhibitors at the zone will include Skyscreen International (P) Ltd., Kunal Enterprise, San Printech, Keetronics India (P) Ltd. and Photokina Chemicals, among others.
A dedicated convergence and networking platform under Media Expo for Industrial screen printing will bring the perfect synergy and allow trade visitors to explore solutions of functional coatings for medical and bio applications, aerospace and automotive printing, printed electronics, printed ceramics and much more under a single platform.
Furthermore, Messe Frankfurt India together with Screenprinting Graphics Association (SGAI) are set to host the 'Industrial Print Excellence Awards 2023' (IPEA) to celebrate established and emerging brands steering innovation across the industrial screen-printing segment. Twenty-four awards across 14 categories will be presented on 3 March in Hall 1, Bombay Exhibition Centre, further to which, the works of all awardees will be curated in the 'Awards Gallery' arena.
The B2B exhibition is backed by the support of top industry associations such as Delhi Printers Association (DPA), The Bombay Master Printer's Association (BMPA) and MSME Promotion Council. Screen Print India – Industrial zone is supported by European Specialist Printing Manufacturers Association (ESMA) and Screenprinting Graphics Association of India (SGAI).
https://media-expo-mumbai.in.messefrankfurt.com/mumbai/en/programme-events/Screen-print-india-industrial.html