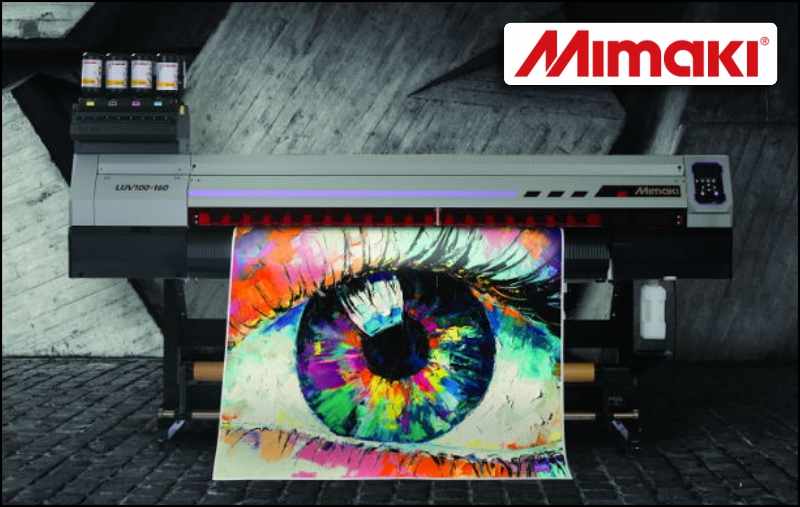 Mimaki Europe introduces Mimaki JV100-160 – Offers quality solvent printing solution at an entry-level price
14 January 2021: Mimaki Europe has introduced Mimaki JV100-160 which offers high quality solvent printing solutoin at an entry-level price. JV100-160 offers maximum print width of 1,610 mm (63.4″). It is useful for Sign and Display, Window Graphics, Banner, Poster, Vehicle Wrapping, Wallpaper, POS Display etc.
The UJV100-160 is equipped with the DAS (Dot Adjustment System), a function to automatically adjust the dot position and feeding amount that affect print quality. The UJV100-160 is a high-speed UV LED inkjet printer mounted with two newly developed printheads to deliver high image quality with max. print resolution of 1200 dpi and max. print speed of 23m2/h.* It is equipped with the DAS which automatically adjusts the media setting and various other functions.
Since the LUS-170 UV curable ink for UJV100-160 can be processed without waiting for the drying time, indoor signs, POPs and stickers can be finished quickly and also suitable for high visibility window displays, decorative transparent acrylic panels, and vivid signage such as light boxes. It can be used with commercially available media like paper and PET film without an ink receiving layer, which helps to reduce the material cost. Furthermore, this ink is VOC-free and environmentally friendly.
When media or printing conditions are changed, an adjustment of ink dot position and media feed amount to suit is necessary. As the DAS automatically performs these operations, printing can be performed without any labor or variations in adjustments by the operator.
In addition to NCU (Nozzle Check Unit), NRS (Nozzle Recovery System), and MAPS4 (Mimaki Advanced Pass System4) that enable stable and high-quality printing, DAS is also provided to new "100 series" printers. Dot position correction and feed amount correction, which used to be manual operations and require time and effort, can be automated, reducing the workload on the operator.
www.mimakieurope.com