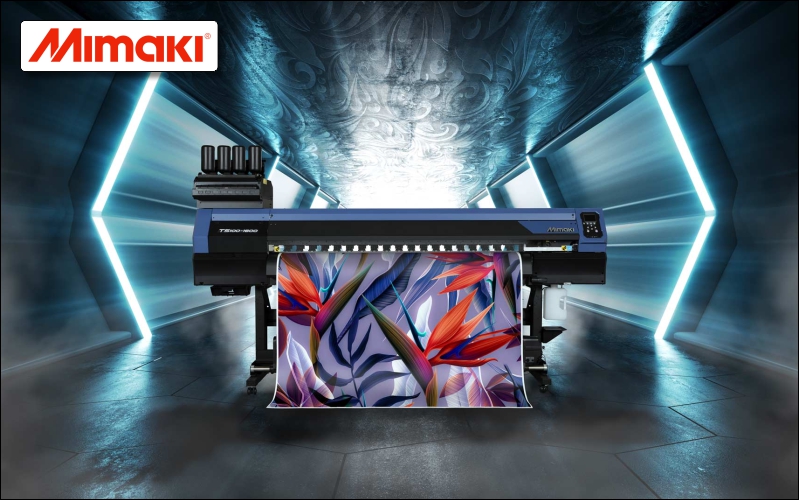 Mimaki Europe Launches TS100-1600 Dye Sublimation Printer
04 September 2021: Building upon Mimaki's legacy of dye sublimation printers, the TS100-1600 provides a unique opportunity for all textile printing companies to meet the demands of the growing transfer market. Offered at an entry-level price, Mimaki continues in its pursuit of a sustainable solution, while delivering high print performance with maximum speeds up to 70m2/h – setting new standards in dye sublimation printing.
As the economical printing solution for fashion, soft signage, home & interior, sportswear, and sublimated products, the TS100-1600 is an absolute game-changer.
Unique features:
– Price/Performance ratio: due to our cross-platform development of the "100 series", Mimaki is once again setting a new standard for dye sublimation printing in price and performance, with a maximum speed up to 70 sqm per hour.
– Print stability: the TS100-1600 comes featured with all of Mimaki's core technologies, including MAPS4 to prevent banding, as well as NCU and NRS, a unique combination that automatically detects and replaces missing nozzles without interference of the operator.
– Dot Adjustment System: Mimaki's easy-to-operate DAS automatically performs bi-directional and media feed adjustments, saving manual adjustment time and improving overall productivity.
– Media take-up system: the printer comes fully equipped with a media take-up system that can handle rolls up to 45 kg.
www.mimakieurope.com