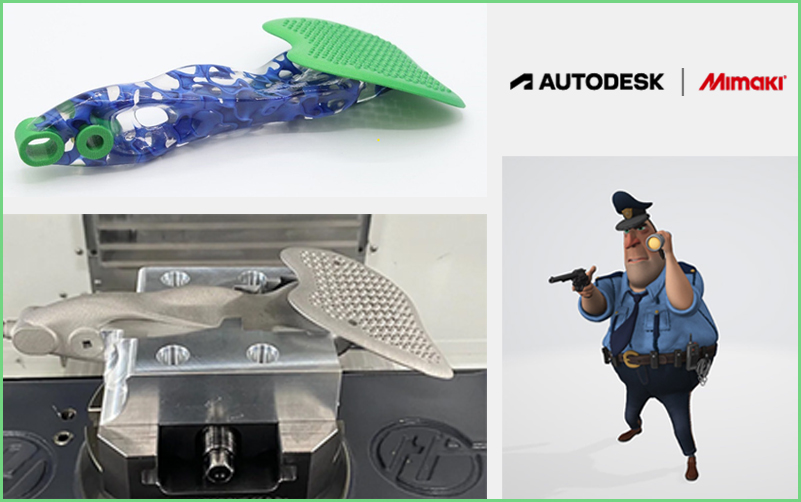 Mimaki to Exhibit at 3D Printer Shows Around the World in Collaboration with Autodesk Software
03 May 2023: Mimaki, manufacturer of industrial inkjet printers, cutting plotters, and 3D printers will participate in 3D printer exhibitions held in May and June 2023 in four countries around the world. With the cooperation of Autodesk, Inc. Mimaki will present how to bring 3D data from the design, engineering, and entertainment industries to life by utilizing Autodesk software and Mimaki's full-color 3D technology.
Autodesk is a leading provider of design software for the Media & Entertainment, Product Design & Manufacturing, and Architecture, Engineering, & Construction industries. By combining Autodesk's widely used software with Mimaki's 3D printers '3DUJ-553' and '3DUJ-2207' which are capable of producing full-color models in more than 10 million colors using UV-cured inkjet method, 3D data can be brought to the real world in full color.
At this year's exhibitions, Mimaki will present a full-color world created with Autodesk software and Mimaki 3D printers through a variety of exhibits, including
Media & Entertainment
Character design for games and animations by Nilian Studios (Canada), utilizing Autodesk software with Mimaki's 3DUJ-553 and 3DUJ-2207 for the production and presentation of original figures.
Product Design & Manufacturing
Product design by Autodesk's Boston Technology Center (USA). Visualization of the internal structure of a generative designed brake pedal for Stewart-Haas Racing, an American stock car racing team, 3D printed using Mimaki's 3DUJ-553.
Architecture, Engineering, & Construction
Civil engineering design models by Fukken Co., Ltd. (Japan), promoting solutions to issues faced by the construction industry through integrated 3D data management using Autodesk's BIM/CIM software and promotion of digital transformation. Civil engineering models are printed on Mimaki's 3DUJ-553 to build consensus with residents and other stakeholders.
Mimaki will Exhibit with Autodesk x Mimaki Full-Color World at following exhibitions in 2023
RAPID+TCT 2023 (Chicago, USA) 02-04 May 2023

Rapid Tech 3D (Erfurt, Germany) 09-11 May 2023

EDIX Tokyo (Tokyo, Japan) 10-12 May 2023

TCT 3SIXTY 2023 (Birmingham, England) 06-08 June 2023

Next Generation 3D Printer Expo / Japan Manufacturing World (Tokyo, Japan) 22-24 June 2023
Mimaki Engineering has a management vision centered on delivering "something new, something different." Mimaki is committed to being a forward-thinking, development-oriented organization that consistently pursues new technological breakthroughs and generates fresh value for its customers.
www.mimaki.com