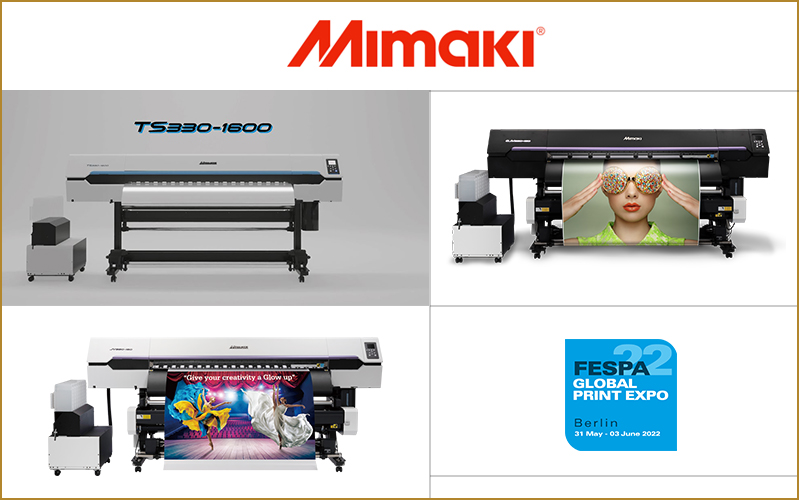 Mimaki to Showcase New 330 Printer Series at FESPA Berlin
19 April 2022: Team Mimaki is gearing up to showcase their newly launched large format inkjet printer series – the 330 Series, at the upcoming FESPA show in Berlin – 31 May 2022 – 03 June 2022. Launched during the company's Global Innovation Days event in March 2022, Mimaki will showcase JV330-160, CJV330-160 and TS330-1600 Digital Printers.
Following on from the success of the 100 and 300 Plus Series, the 330 Series was developed to offer mid to high end printing models, focusing on high image quality and productivity. Coming from a company renowned for its high colour range, Mimaki's newest printers can achieve high resolution, durable prints for both the Sign Graphic & Textile Industries.
The eco-solvent inkjet printers, the JV330-160 and CJV330-160, deliver the high standard of colour required for indoor and outdoor sign graphics through the new "Deep Colour Natural" input profile, offering eye-catching and vivid solid colours, natural skin tones as well as deep reds and neutral greys. With printing speeds of 21.0m2/h in standard mode using 4 colours, this printer is ideal for print jobs that require quick delivery. The in-built cleaning mechanisms and monitoring features ensure an efficient workflow and allow for longer running times.
According to the company, the 330 Series offer a high end, yet cost-effective printing solution across several sectors. Similarly, the CG-AR Series offers users new workflow enhancing, entry-level cutting plotter technologies that are available in three sizes. Both launches tie in with Mimaki's objective to grow both its high end and entry-level product range, to further encourage and support customers in expanding and improving their printing services and product offerings.