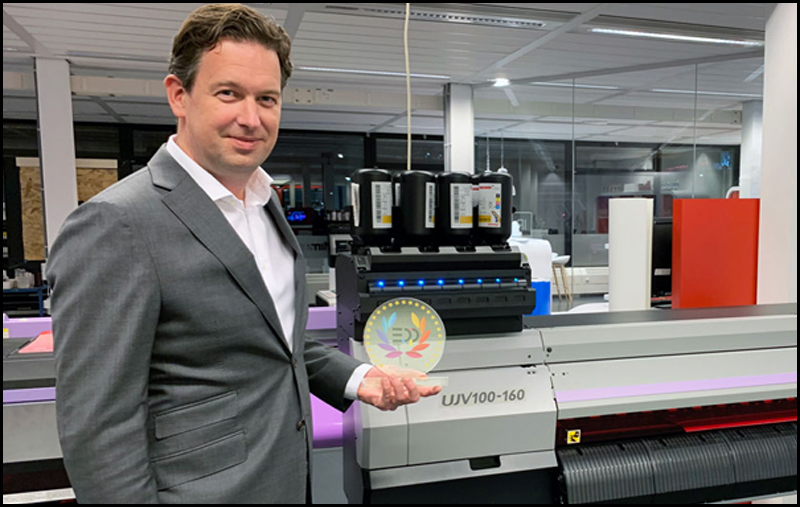 Mimaki UJV100-160 Awarded Best Roll-to-Roll Printer by EDP
19 December 2020: European Digital Press Association (EDP) has presented the 'Best Roll-to-Roll printer up to 170cm' award to Mimaki for its UJV100-160 LED-UV inkjet printer. Confirmation of this prestigious award also coincides with this high-quality, high-productivity printing solution being officially released as commercially available for the European market this month. Many of the features that make the UJV100-160 printer cost-effective, reliable, and easy-to-use were noted as key factors that contributed to the EDP judges choosing this printer for the award.
According to Mimaki, the UJV100-160 is compatible with a wide variety of media, including metallic foil, fabric and uncoated materials, enabling sign makers to produce a diverse range of high-value applications, such as posters, POP, soft signage, stickers and window decoration. The printer features two newly developed printheads and the new DAS (Dot Adjustment System) feature. DAS automates conventional dot placement (dot position and feeding correction) for maximum image quality.
The UJV100-160 prints at a maximum of 23m2/h with VOC (Volatile Organic Chemicals) free UV-curable ink. This environmentally conscious ink cures instantly after printing, eliminating the drying time that water-based or solvent ink requires. Post-processing and sign application are therefore possible immediately after printing, reducing production time and enabling printers to deliver products to short deadlines.