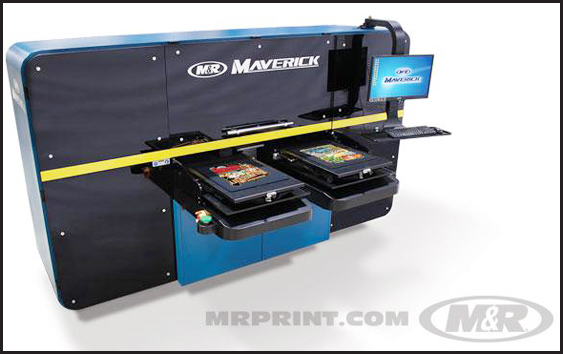 M&R to use TucLoc Pallets on its Maverick Industrial DTG Printer
04 March 2021: M&R Printing Equipment has tied up with Livingston Systems. Under a strategic business arrangement, M&R will outfit their Maverick Industrial High-Speed DTG Printing System with patented TucLoc Pallets. This arrangement will allow operators of the Maverick printing system the ability to rapidly load shirts using the patented TucLoc system. This solution combines ease of loading for higher overall efficiency, with the Maverick's ease of printing incredible-looking images.
Livingston Systems is a designer and manufacturer of unique garment pallets for the screen print, DTG and heat press industries since 1989. M&R has been working together with Livingston systems in a variety of arrangements for the past several years to provide different printing solutions for apparel decorators at industry trade shows and through dealer distribution networks.
Darren Livingston, owner of Livingston Systems, says, "Combining the Maverick's unrivaled image quality with the TucLoc Pallet's ease, versatility, and speed to load/unload garments makes this an ideal combination for any print shop looking for the best in an industrial-grade DTG solution."
M&R offers industrial-grade DTG printer. Featuring a dual-shuttling platform that allows independent pallet shuttling based on the operator's needs, the Maverick can print images one-off or as multiple copies, and produce them in an array of shirt color combinations. Two digitally-controlled heat presses use air cylinders to flatten garment fibers and heat the surface prior to printing.
www.mrprint.com