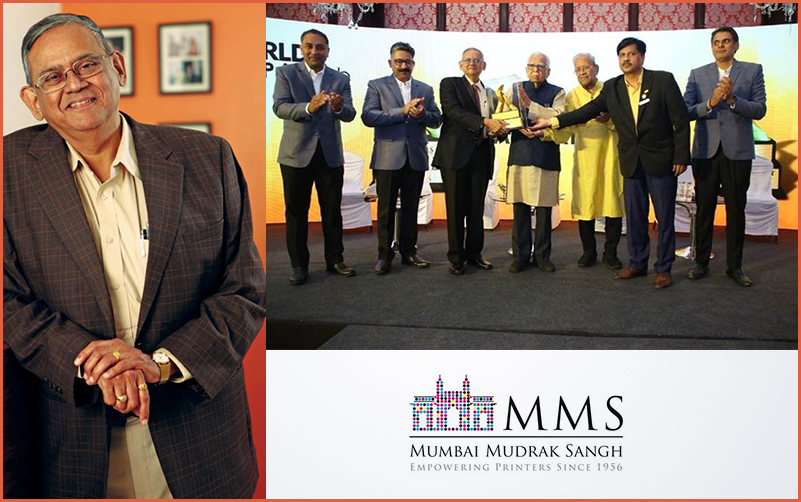 Mumbai Mudrak Sangh Felicitates Anand Limaye with Lifetime Achievement Award
21 April 2023: Two decades ago, Anand Limaye had initiated the MMS Lifetime Achievement Award during his Presidency at Mumbai Mudrak Sangh from 2003-2007 to commemorate its Golden Jubilee Year. This year, in a fitting turn of events, the association conferred the MMS Lifetime Achievement Award to him for his exemplary commitment to the print industry.
Commenting on being honoured with this prestigious award, Anand Limaye, who has always made himself available 24/7 for the print fraternity said, "I am ever so grateful that I have received this Award, and I take it as a testament to and appreciation of my work in and for the industry."
The Award is conferred on a print industry stalwart yearly, year after year till date. Previous Lifetime Achievement Awardees include TechNova's Pranav Parikhl; Line O Matic's Uday C Patel; K.C. Sanjeev, MD of Welbound Worldwide; Sanath Shah, Chairman of Manugraph India; Gautham Pai, MD of Manipal Technologies Ltd.; and Autoprint's C.N. Ashok to name a few.
Anand Limaye is a successful businessman and entrepreneur. An alumnus of Government Institute of Printing Technology (GIPT), Mumbai, he has been steering the operations of the legendary 91-year-old India Printing Works, established by Late Vishwanath Limaye and Late Wamanrao Bambardekar, since his father's demise in June 1980.
"I have catapulted the organisation forward by investing in modern technology. I envision my company leading by providing our clients with state-of-the-art facilities and services. I am proud to say that our clients appreciate our customer-centric organisational focus. Moreover, our foray into publishing with Inking Innovations has brought about many progressive changes in the publishing industry. We have over 100 titles to our credit in the past ten years," he affirms.
Today India Printing Works is one of the leading print houses in India. The company has been giving life to publications for over nine decades. As the pages of time have flipped by, India Printing Works has left an indelible mark in the industry and Anand Limaye proud to be a part of this journey.
According to him, people remember and come to associations only in times of crisis. However, we can benefit from any initiative only through the collective might of the industry and the trade associations.
"I became the MMS President during its Golden Jubilee year. We celebrated the year with highly successful seminars throughout the year in Mumbai. But we soon realised the need to reach the grassroots. Through these large seminars, we may attract a significant number of printers. However, only a few interact with the experts or each other for many reasons. Can I ask the question in English ? Is interacting in my vernacular language at such a large, professional gathering, okay? What would others think of me if I asked this question now ? Many people, thus, shy away from genuinely participating in such seminars. Therefore, we initiated 'MMS at your Doorstep'. Later I replicated the programme when I became MMP Chairperson and Vice President (West) at AIFMP. Additionally, we engaged printers to help them understand the necessity for legal, licensed software applications."
www.mumbaimudraksangh.org