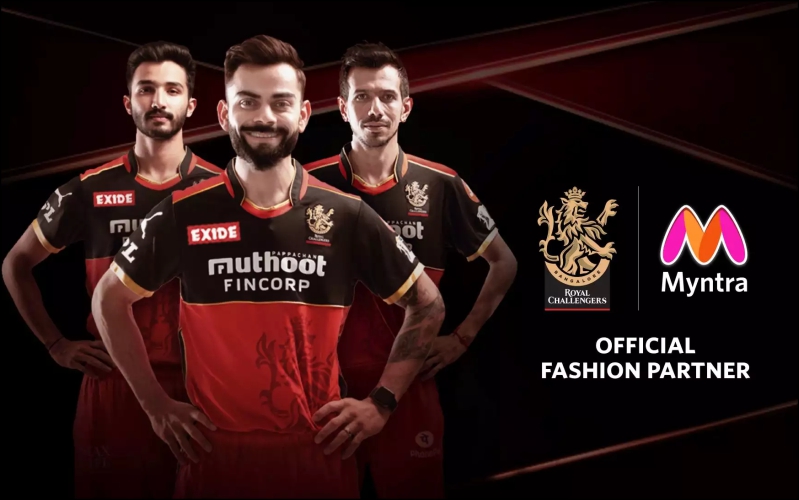 Myntra is Official Fashion Partner of Royal Challengers Bangalore
30 April 2021: Myntra is Official Fashion Partner of Royal Challengers Bangalore (RCB) for the upcoming edition of IPL 14. Myntra will create content stories with RCB through the lens of fashion, while also extending the association onto the Myntra app with various offerings for IPL 2021. Customers will be able to shop for the official RCB merchandise and engage in fan contests to win prizes.
Myntra and RCB are set to create about 150 engaging videos for the die-hard fans of the game under four broad themes, which will be released on RCB's social channels. These are Bold Diaries – series of videos showcasing the 'behind the scenes' life of an RCB player, RCB Insider – a satirical and humorous series of videos mainly led by the very popular character 'Mr. Nags', played by comedian Danish Sait, Game Day – videos that show different interviews with the players and coaches before and after the match and RCB 12th Man – a series of videos completely dedicated to RCB fans.
Additionally, Myntra will collaborate with RCB on five bespoke quirky fashion content pieces for their digital properties. The videos will be available across two of the key RCB's digital properties, RCB Insider and RCB Bold Diaries, featuring 'Mr. Nags' and various other Marquee players of the team. Myntra seeks to reach 30 million people through this integration.
Speaking of the partnership, Rajesh V. Menon, Vice President & Head of Royal Challengers Bangalore, said, "We are delighted to partner with Myntra in the consecutive year, the leading e-commerce platform for fashion in India. RCB shares the same ethos of being a cutting-edge lifestyle brand, and this association further helps enhance the proposition."