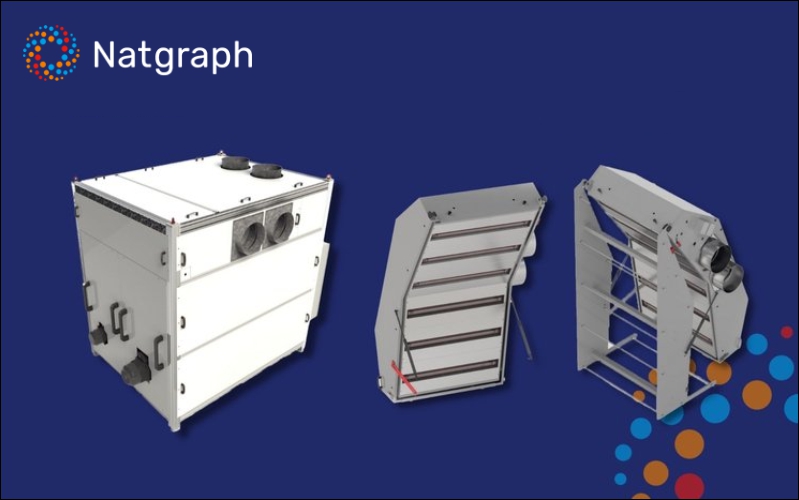 Natgraph Launches High Energy Saving Reel-to-Reel Drying and Curing System
24 February 2022: With energy costs spiralling and awareness of environmental impact growing, energy efficiency is increasingly important. So, UK based Natgraph Ltd. The company has a unique capability to balance these two seemingly conflicting demands through a focus on product design and control excellence. So, as a long-established supplier of high-performance drying equipment for industrial print, the company has now entered the Reel-to-Reel Printing and Coating market by introducing an energy-efficient drying and curing system. The new has excellent control and product design which reduces energy loss. Natgraph's extensive experience has been built on answering the needs of a diverse global market, from precise print finishing, automotive applications to life-critical medical products and alternative energy innovation.
Roll to Roll system refers to any process of applying coating, printing, drying/curing or performing other processes starting with a roll of a flexible material and rewinding after the process to create an output roll. So, Natgraph's new Reel-to-Reel machines is suitable for use in rotary screen printing, flexographic, slot die coating, gravure, and other printing and coating methods. The new machine has a Jet Pack HP and Jet Pack E with Hot Air Delivery Hood and an IR Pack.
According to the company, the Reel-to-Reel machine has three key energy-saving features for reducing energy usage by amounts exceeding 50%. These include: Air recirculation and optimised exhaust flow rates ensure that every kW of energy is efficiently utilised; An Intelligent Energy Control System aligns dryer energy consumption with process activity. If the press, for example, is in a standby or make ready condition the dryers will go into a low power hibernation mode awaiting a signal to instantaneously recommence; Heat exchangers preheat the intake air from the exhaust air which minimises the energy required to bring the cool air up to temperature. The industry is very well served by innovators and suppliers of UV curing technology but much less so for water and solvent drying options.
The industry is very well served by innovators and suppliers of UV curing technology but much less so for water and solvent drying options. This is the market segment that Natgraph will bring innovative, high-performance solutions. Natgraph is well accustomed to working with OEMs, distribution channels and end-users around the world which means that they are uniquely placed to help all stakeholders answer the challenge.
At present the options available to OEMS and end-users are limited. So, we can collaborate with customers to design customised solutions for their specific processes, evaluating them fully and supporting their needs with an agile, service-focused production capability," said Andre Goodson, Managing Director, Natgraph.
Natgraph was founded in 1980 and since has established itself as a key player in the Industrial Printing market globally. The company is based in Nottingham, UK from where it exports close to 90% of factory output to customers in Europe, The Americas and Asia. In 2019 Natgraph became part of the Indutrade Group. Established in 1978, Indutrade is a Swedish Industrial Investment Group that acquires niche, innovative manufacturing companies. Natgraph is represented in India by Kunal Enterprise, Mumbai.
ajaygandhi@kunalenterprise.com, www.kunalenterprise.com