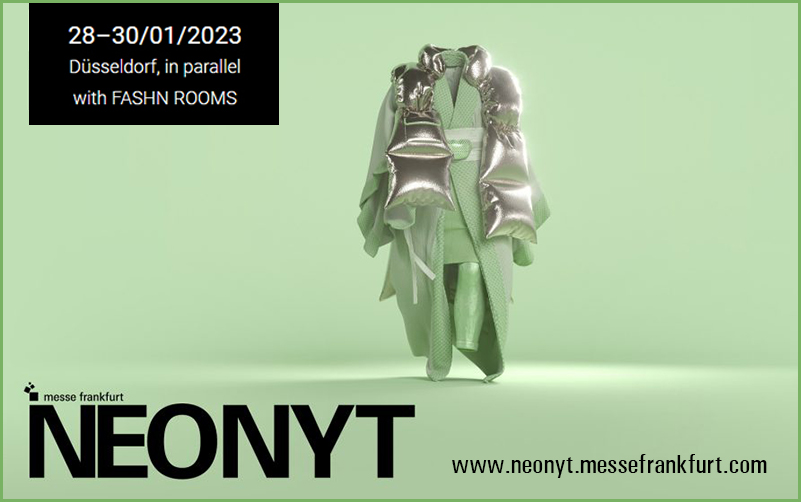 Neonyt – Textile & Fashion Show to take Place at Düsseldorf in Jan '2023
26 September 2022: Neonyt event is the synonym for a fundamental process of transformation in the textile and fashion sector. So, after recognising the potential of Neonyt, Messe Frankfurt has decided to hold the German edition of this B2B event as an international show in Düsseldorf from 28 to 30 January 2023. According to the organisers, Neonyt will be held as a licence event concurrently with the FASHN ROOMS in the fashion metropolis of Düsseldorf, thus making Neonyt part of a successful international combination of some 600 international brands.
Neonyt will be held alongside the Agencies & Premium Brands (Showroom Concept), Avantgarde, Design & Contemporary and Accessories & Shoes segments of Fashn Rooms. This will benefit not only exhibitors and trade visitors because Fashn Rooms in Düsseldorf is also renowned for its content-creator segment.
Olaf Schmidt, Vice President Textiles & Textile Technologies, Messe Frankfurt, says "Our strength in the textile sector is based on the great expertise of the international Texpertise Network of Messe Frankfurt. And Neonyt be expanded not only as a marketing and business platform but also with regard to its impact on sustainability in the order business."
He added "International efforts are being resumed by Messe Frankfurt with the aim of illuminating the scalability of innovative technologies and the power of the sustainable textile and fashion sector during relevant industrial and lifestyle events."
Meanwhile, the next Fashionsustain will be held concurrently with the Fashn Rooms in Düsseldorf in January 2023. Messe Frankfurt is also (once again) planning more international spin-offs from the conference.
There was already a rapidly expanding 'green' fashion market when the event now called Neonyt moved from France to Germany in 2012. At that time, environmentally friendly concepts were in demand and supported by the trade, buyers, the industry and political stakeholders. Together with designer brands, fashion producers, NGOs, established brands and newcomers, the forerunners of Neonyt, the Ethical Fashion Show Berlin and the Greenshowroom Berlin, were driving forces for a revolution in terms of value and system in the German capital. In 2019, the two events were merged under the new name, 'Neonyt'.
www.neonyt.messefrankfurt.com