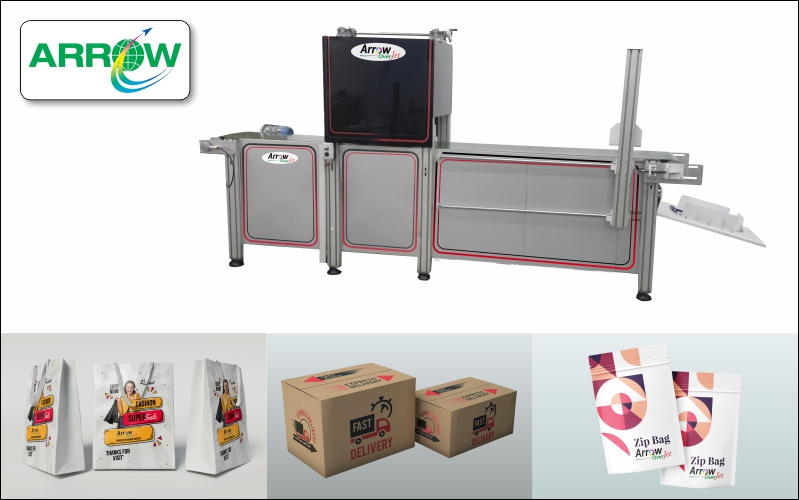 New Arrow OverJet adds Digital Capabilities in your Corrugation needs
14 August 2021: Arrow Digital is thrilled with the launch of its latest innovation, the Arrow OverJet. The latest offering from Arrow Digital is a single-pass overprinting using Memjet's DuraFlex engine provides working with automatic feeders to pass your ink-receptive print media, the Arrow OverJet can produce a variety of substrates without the limitations of needing a varnish.
Sam Patel, MD & CEO, Arrow Digital adds, This narrow format overprinting system is the answer to your business needs. Arrow OverJet utilizes Memjet's DuraFlex® technology to bring your business an efficient, automated workflow for even the most demanding customized short to medium run jobs without forgoing the 1,600 x 1,600 dpi quality your prints deserve. This digital overprinting system (15 inch conveyor width) takes water-based pigment inkjet receptive surfaces such as postcards, paper bags or folded boxes and economically applies vibrant, durable pigmented ink.
Patel adds, The Arrow OverJet utilizes a pressure-sensitive entry plate that allows for continuous printing without the need to adjust the media height as you move between jobs. The seamless transition between jobs and ease of use allows Arrow OverJet to increase efficiency for your business. Thanks to the automatic height which allows to continuously print at speeds of up to 150 feet per minute, it reduces machine downtime between runs saving you both time and money to meet customer demands. 
USP of Arrow OverJet:
Sustainability
Sustainable packaging has become the need for consumers and a key feature that they are willing to pay a premium to support the Environment. Corrugated packaging is a sustainable way to ship, protect and deliver products to consumers because of its environmental benefits. These type of packaging are both commonly recyclable and can be made from recycled paper. Memjet's water-based pigmented inkjet inks fully support the recycling of printed corrugated materials and will not create toxic waste in streams. This makes Arrow OverJet an ideal solution for sustainable corrugated package printing.
Flexibility
The End User are becoming demanding with each passing day, they need customization, vibrant colors, sustainable solution, variable data possibilities, short runs, this is only possible if you adopt a digital environment friendly technology.
No Minimum Order Volume
With the Arrow OverJet you do not have to worry for high volumes to be competitive, you can print as and when needed. So if you customer needs a change even after finalizing the design, the changes are on fly, as no pre-press cost is involved. This Digital Printer is ideal for short runs as well as Production. Fast-cycle prototyping produces proofs that reflect final product quality with 100% accuracy.
Direct Printing
The Arrow OverJet is a narrow format overprinting system which can produce a variety of substrates without the need of limitation. With Direct Printing you don't have to worry for sticky labels or mess. It's just select a design and print on the end product.
www.arrow-digital.com