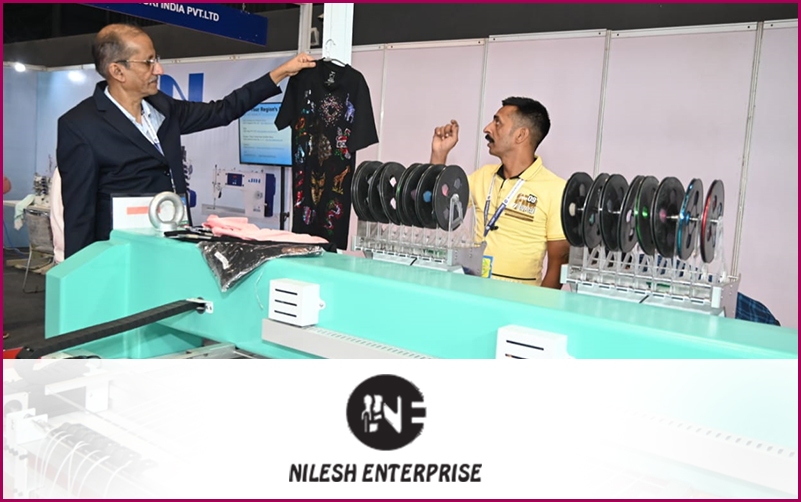 Nilesh Enterprise Introduces SINSIM Squence Machine at Garknit-X 2022 Expo at Kolkata
29 November 2022: Customization has become a growing trend in fashion. Consumers, especially women and yough turks, want value for their money while choosing their fashion products and also the product should have more value addition with something new. The market is moving towards mix of garment decoration ideas.
Seeing the changing world of fashion and to enable garment decorators to offer value addition, Kolkata based Nilesh Enterprise showcased 'SINSIM Liberty' Sequin Embroidery Machine at the recently concluded Garknit-X 2022 Expo in Kolkata.
Sequin is a novel idea in fashion and it adds high value especially to a duly printed garment, says Sushil Golchha, one of the partners of Nilesh Enterprise. The company has effected 5th installation in Kolkata. Golchha says that both the garment manufacturers and garment decoration job workers such as printers can invest in this machine to add value to the fashion products. There can be both print and sequin embroidery on women's apparels, t-shirts for young turks, etc. There are convex concave sequins, eccentric sequins and colorful sequins, with the shape of round, hexagonal shape, elliptic and square.
The company offers 1, 4 and 10 head sequin machine. In addition to supplying all the necessary raw materials, the Nilesh Enterprise team will also offer installation and application training.
SINSIM high-speed embroidery machine is widely used in high-end brand embroidery, such as fashion, children's wear, wedding dress, home textiles, knitting, woven, cotton, leather, etc.
Nilesh Enterprise is a leading screen printing distributor and supplier to textile printing machinery, materials, inks and allied equiment for garment and other printing industry.
Commenting on the overall outcome of the Garknit-X Kolkata, Sushil Golchha said that owing to the current downward trend in the garment and textile market, order booking was not upto the level of previous shows. "The issue of cotton prices and the slackness in demand for garments is affecting the overall market growth which was reflected in the outcome of the recent exhibition. In addition, owing to the poor market demand in the USA and European market, the Jute export is also not much encouraging. We have to wait and watch the future market situation."
www.nileshenterprise.com