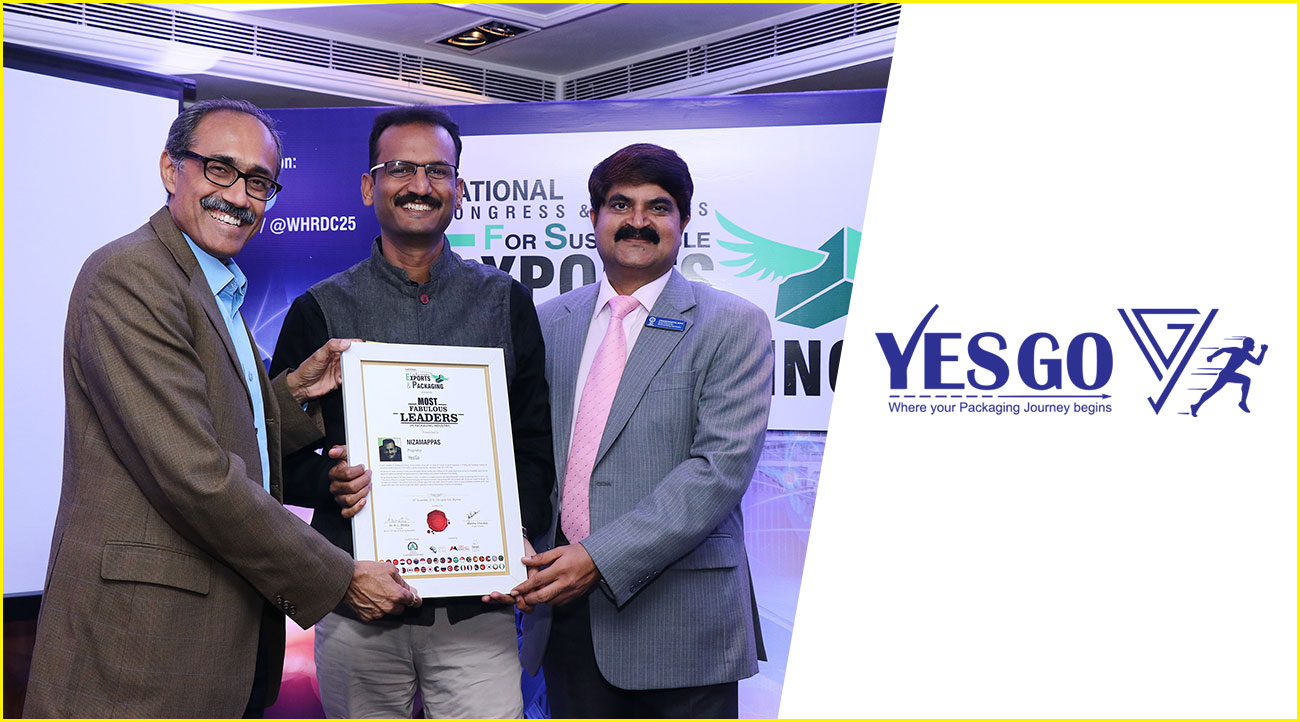 Nizam Appas Honoured With Most Fabulous Leaders Award in Packaging Industry
20 November 2019, Mumbai : Nizam Appas, Properietor YesGo was conferred with Most Fabulous Leaders in Packaging Industry Awards by National Congress & Awards for Sustainable Exports & Packaging in a highly engaging confluence of Who and Who of Packaging Industry at The Taj Lands in Mumbai on 20th Novmeber 2019.
On achieving this feat, Mr. Nizam Appas said "I believe, you receive your true honor indeed when your efforts speak results as a palpable change in the society and its substantial appreciation and acceptance by the same. But Recognition and honor like this, give you a kind of fillip and fill you up with streams of more positive energy and enthusiasm to put your efforts towards more substantial and productive results".
He asserts that efforts of this kind is a requisite for the fortification of very fabric of the industry. And to further this spirit of oneness and perfection in the industry, he with his venture YesGo, keeps on organizing gathering of top industry veterans Globally. And they are going to conduct their next event at Bangalore – Meet The Leaders event – which is going to witness presence of top veterans from the industry.
The Insightful event saw the gathering of many august presence from the industry
Chakravarthi AVPS, Managing Director, Ecobliss India Pvt Ltd

Soumyanath Mishra – General Manager- Packaging and Development, Mankind Research Centre

Dr. Roshan Palewar, CEO, Global Pharma Leader

Dr. Mandar M Kodgule, Chairman & CEO, IQGEN-X Pharma Pvt Ltd

Prof. Karna BK, Director – Packaging Clinic & Research Institute

Saurabh Gupta, General Manager, Medley Pharmaceutical Ltd

Shaikh Mustaq Ahmed, – Director Accounts And Finance, SMI Coated Products Pvt Ltd

Lakshay Gupta, Executive Director, P.R. Packagings Ltd

Udaykumar K. Rakibe, Founder, PharmaMantraTM

Samir Vijay Limaye, Vice President, Wimco Limitd

Tarunpreet Walia, Associate Director (Healthcare and Pharma), EMA Partners
About YesGo Grand Global Event On Premedia Prepress and Packaging Training Workhop With Esko
Demands for Esko Training and Esko Trained Operators have witnessed a tremendous surge in the past few years. YesGo successfully meets this very need of the industry by continuously delivering Esko training as well as Esko trained operators and executives globally. Following to the heavy and growing demands globally, to conduct such trainings at their proximity, YesGo Management planned and structured, YesGo Grand Global Event on Premedia Prepress and Packaging Training Workhop with Esko – A unique and Premier Venture to conduct workshops at places closer to its enquirers and spread perfection and awareness in prepress and packaging at every nook and corner at global spectrum. After receiving humungous response from its First Workshop at Mumbai, YesGo is going to conduct the workshop in Bangalore- Second in the series of its Global Workshop Plan.
The Workshop is meant not only for individual learners but also for Corporates who wants to train their employees in advanced Esko Softwares to run their prepress effectively. Learners have advantage to interact with industry veterans and get hired on the spot; Corporates have the opportunity to meet and hire Esko trained manpower on the spot as well as let their staff as well as next gen get trained closer to their place without having any travelling and accommodation glitches. This unique concept and confluence of learners and industrialists- a first ever attempt in printing and packaging industry – is meant to serve mutual benefits for corporates and learners.
YesGo extends its deep gratitude to the support it receives from the industry in its journey towards perfection in prepress- both from professionals, corporates and its dedicated students which stimulates its spirit to continue serving the industry with skills and skilled manpower in the industry. During the course of time YesGo has symbolically become a new search engine for all premedia, prepress, print and packaging needs.
www.yesgoindia.com