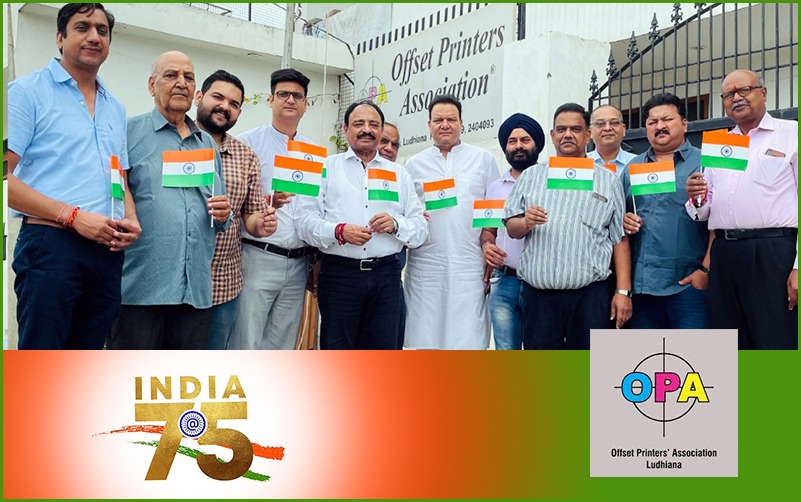 OPA Celebrated 75th Independence Day
15 August 2022: Azadi Ka Amrit Mahotsav (75th Independence Day) was celebrated by Offset Printers' Association (OPA) at its office at South City, Ludhiana. National flag was unfurled by Parveen Aggarwal, President of OPA and after reciting national anthem sweets were distributed. Speaking on the occasion Prof. Kamal Chopra, General Secretary OPA said, Bharat ki Azadi Ka Amrit Mahotsav is an initiative of the Government of India to commemorate 75 glorious years of progressive India and its rich history, diverse population, magnificent culture and great achievements. It is the time to remember our heroes who were instrumental for the independence of our nation. It is the time to pay homage to all known and unknown stalwarts who sacrificed their life so that we can live peacefully in an independent country. It is therefore to celebrate the national days is the prime objective of OPA, Prof. Chopra added.
In his address Parveen Aggarwal, President OPA said, Independence Day is celebrated annually. On August 15, 2022 India is celebrating the completion of 75 years of independence. On this day, India is remembered for achieving independence from colonial authority after two centuries of British repression. The 75th Independence Day being celebrated as Azadi Ka Amrit Mahotsav is very special, because on this Independence Day, India will again be commemorating its freedom fighters who sacrificed their lives for the unity of India. The theme of 75th Independence Day is 'Nation First, always first.'
Romi Malhotra, Sr. Vice President, Gagandeep Singh, Vice President, Hans Raj Chopra, Finance Secretory, Manoj Kumar, Secretary and Nitin Malik, Jt. Secretary also paid tributes on the occasion. Others present on the occasion were, Aman Gupta, Shellinder Shelly, Rohan Oberai, Arun Sharma, Ms. Parul Garg, Raj Garg and Sushil Kumar Goel.