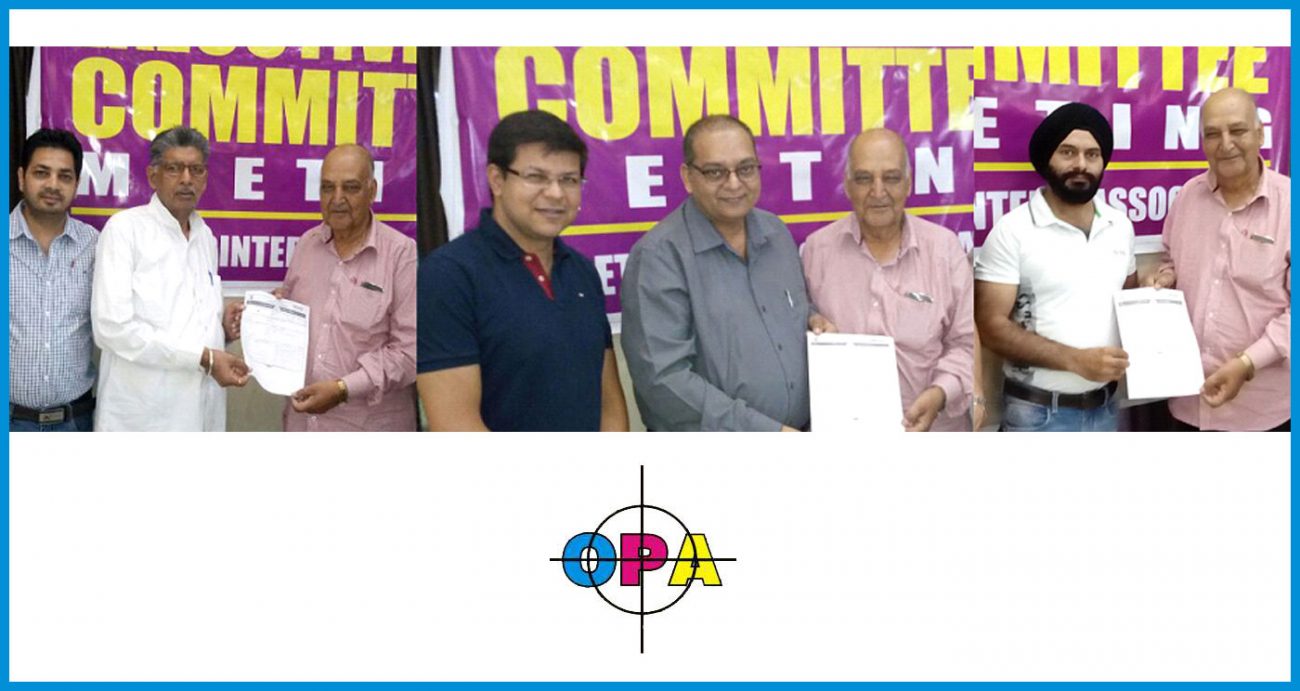 OPA organized UAM Camp at Ludhiana
18 June 2018, Ludhiana, Punjab : Offset Printers Association (OPA) organised a camp for on the spot Udyog Aadhaar Registration for its members on 17th June at its office at South City, Ludhiana.
Speaking on the occasion, Prof. Kamal Chopra, General Secretary of OPA said, now Udyog Aadhaar is mandatory for any entrepreneur. Now onward to avail any benefit extended by the government the UAM is necessary. He said, Udyog Aadhar is a facility by which your company gets a 12 digit unique ID and becomes a legal entity. Any micro, small or medium enterprise to start out any business needs to get itself registered under Udyog Aadhar.
Inaugurating the camp Mr. Gagandeep Singh, Vice President of OPA said, prior to October 2016, to get yourself registered as MSME's you need to carry out a lot of paperwork and fill Employment Memorandum I and II. However, Kamath Committee on Financial Structure of MSME sector recommended a single window clearance system. Hence, Policy of Udyog Aadhar came into force. To do registration, owner of the enterprise needs to fill a single form online or offline available at the site of ministry. This form is free of cost. The document required for the registration are Personal Aadhar number, Industry name, Address, bank account details, PAN number in case of Cooperatives, private or public limited and LLP and details of major activity carried out by the enterprise.
The UAM registration camp was organized for the ease of the members of OPA many a members avail the opportunity and UAM certificates were issued to the members by Mr. Hans Raj Chopra, Finance Secretary of OPA, on the spot. The direct benefit of UAM registration are: Easy sanction of Bank loans at lower rates of interest, Credit Guarantee scheme, Exemption under direct tax laws, Interest on Delayed Payments Act which is thrice of the rate stipulated by RBI for the time being, Other Subsidies from State Governments as extended credit facilities, Industrial extension support and services, Assistance in marketing( both within the country and outside) Assistance for construction of industries in underdeveloped areas, Technical consultancy, assistance in capital, and so on, for enhancement of technology in MSME's. Apart from these Government in a phase wise manner enhances the list of reserved products to be brought from MSME's only.
Moreover, as per Trademark Rules 2017, special provision has been carved out for UAM certificates holders in micro and small industries. As per schedule A of the rules, the fees for filing a trademark application for MSME's is only 50% as compared to another form of business.