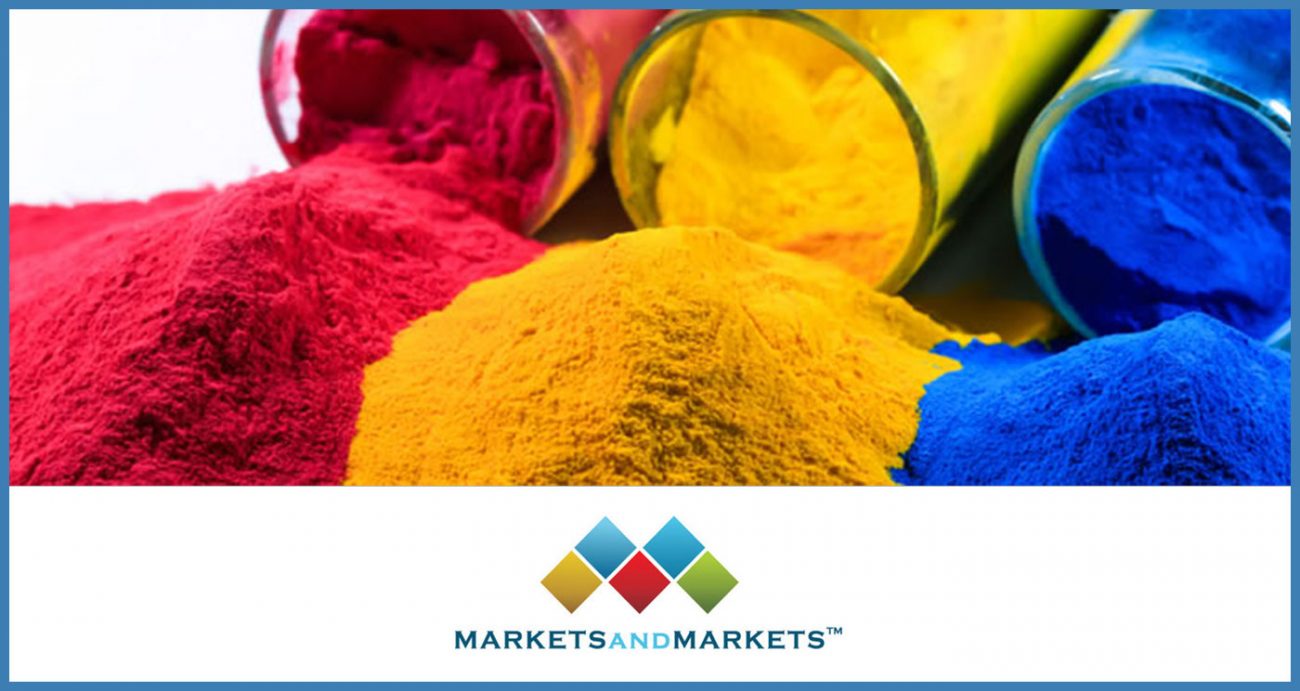 Organic Pigments Market Worth 4.67 Billion USD by 2023
According to the new research report "Organic Pigments Market by Type (Azo Pigments, Phthalocyanine Pigments, HPPs), Application (Printing Inks, Paints & Coatings, Plastics), and Region (North America, Europe, Asia Pacific, Middle East & Africa, and South America) – Global Forecast to 2023", published by MarketsandMarkets™, the Organic Pigments Market size is estimated at USD 3.69 billion in 2018 and is projected to reach USD 4.67 billion by 2023, at a CAGR of 4.8% between 2018 and 2023.
Browse 69 market data Tables and 28 Figures spread through 102 Pages and in-depth TOC on "Organic Pigments Market"
Packaging plays a very important role in establishing brand value in the minds of customers. The importance of aesthetics in packaging has grown due to the need for product differentiation arising from high competition. This is one of the major reason which is driving the market for organic pigments in printing inks used in packaging. In addition, the absence of heavy metals in organic pigments is also a major driver for this market. Heavy metals are considered to be one of the most harmful substances to human health.
Azo pigments segment led the organic pigments in 2017
The azo pigments segment is projected to account for the largest share of the overall Organic Pigments Market as it is economical and is widely used in applications such as printing inks, plastics, paints & coatings, and so on. Azo pigments are available in a wide range of colors such as red, orange, and yellow for printing application, which further increases its demand.
Printing inks application expected to lead overall Organic Pigments Market during forecast period
The printing inks segment is the largest application of the Organic Pigments Market. Plastic packaging of food & beverage, consumer goods, and printing media are the major industries driving the market for organic pigments in printing inks application. In addition, stringent government regulations to use organic pigments in food contact materials also drives the market for pigments in printing inks application.
Organic Pigments Market in Asia Pacific projected to register highest CAGR during forecast period
Asia Pacific is the largest and the fastest-growing market for organic pigments due to the rising demand from packaging, automotive, and construction industries in the region. In addition to this, the increasing population in Asia Pacific countries present a significant customer base for FMCG products and food & beverages, which is expected to lead to the growth of the packaging industry. The growth in the packaging industry is also expected to drive the market for organic pigments in the region.
Key players in the Organic Pigments Market
The key players in the Organic Pigments Market are BASF SE (Germany), Clariant AG (Switzerland), DIC Corporation (Japan), Heubach GmbH (Germany), and Sudarshan Chemical Industries Ltd. (India). These companies undertake dynamic business strategies to sustain growth in the Organic Pigments Market.
www.marketsandmarkets.com