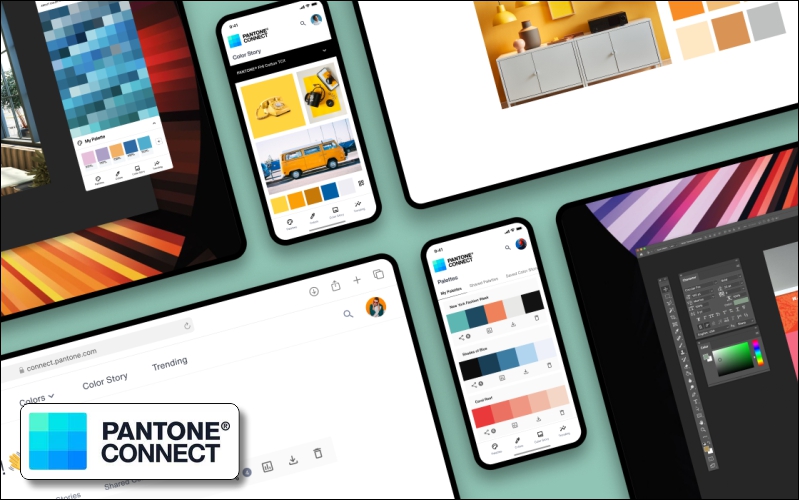 Pantone Expands Pantone Connect Platform – Features Allow Creation of Digital Mood Boards and Palettes
22 November 2021: Pantone, a provider of professional color tools for designers, announces the latest version of Pantone Connect, a digital platform for designers built to assist in color decision-making and communication. The platform, which provides access to all 15,000 Pantone Colors available in the cloud, has added features that allow for the creation of digital mood boards and palettes, as well as enable live collaboration within teams, clients and partners throughout the design workflow.
According to the company, the Pantone Connect platform, first launched in April 2020 and then in June 2020 with the Pantone Color Match Card, has evolved to the rapidly changing needs of the designer; specifically to adapt to a new creative and working environment that has merged physical and digital like never before due to the pandemic. Pantone says it worked closely with designers across industries to understand the nuances of the designer's new workflow, updating the product to best match their needs. The platform is available in the Adobe Extension Marketplace for use in Adobe Creative Cloud software, App Store (iOS) and Google Play (Android) for smartphones, and as a web application in a web browser.
"Pantone's process for product design is very personal. We like to get in the trenches with the design community to understand how our tools can better help their process from inspiration to creation," says Jung Sin, Global Director (Digital Product Management) at Pantone. "With this newest iteration of Pantone Connect, we believe we created a unique tool that has evolved to how designers naturally work and we are excited to continue adapting and updating our tools to accommodate that."
The new Pantone Connect features include: Mood Board Function, Palette Creation & Collaboration Tools.
www.pantone.com